A Brief Introduction to Work Management Software
At ProcessDriven, we firmly believe that systems ≠ software. Software simply makes implementing and managing critical work systems easier. It also increases people's speed and efficiency by helping them stay organized and eliminating repetitive tasks. More specifically, work management software is effective because it provides a single access point for individuals and teams to communicate, collaborate, and establish and complete workflows.
What do we mean by systems ≠ software? Let's use payroll as an example. If your accounting software disappeared overnight, it wouldn't end the process of paying your employees. It might complicate matters temporarily, but the system doesn't stop functioning, even if it means returning to handwritten ledgers and checks!
Business systems keep operations running regardless of which software platform you use. That said, you can certainly see how accounting software makes payroll more accurate and efficient, especially for companies with many employees. This is where SmartSuite comes in…
Your business is a collection of processes, and by using a work management platform like SmartSuite, you can establish a single location to create, administer, and evolve all the processes necessary to keep things running smoothly. Imagine Sales, Marketing, Accounting, Human Resources, IT, and Operations all supporting each other harmoniously in a unified cloud-based platform accessible from anywhere. It almost brings a tear to your eye! 🥹
SmartSuite isn't the only option for work management software, but we do think it's one of the best due to its ease of use, highly customized user experience, vast resource library, and, quite frankly, aesthetics. If you're even a little bit of a design freak, we think you'll enjoy the clean interface and ability to create personalized-but-professional Forms, Views, Records (Tasks), and Reports using color, icons, and other graphic elements.
This Unofficial SmartSuite Survival Guide is a mini- mini course in getting set up, organized, and mastering the essential functions of this popular and accessible work management platform. Once you've mastered the basics of creating, editing, and customizing content and understand how SmartSuite works, you'll be well on your way to unlocking its full potential for developing custom workflows and ready to dive into some of our more advanced SmartSuite tutorials. No IT support required!
Pro tip: You can take our online mini-course, How to SmartSuite™️, and learn all the SmartSuite essentials in less than 1 day.
👀 Looking for ProcessDriven's Best of SmartSuite Videos? We've got a YouTube playlist for that!
Read on to learn more about what SmartSuite does, why every small business owner needs a work management platform, and how to get started using SmartSuite for everything from content marketing to human resources. If you'd like to follow along in SmartSuite, check out the free plan here using our affiliate link.
What is SmartSuite?
SmartSuite is a cloud-based work management software platform that offers a single-system approach to business workflows. This Task-based focal point gives teams the means to communicate when and where they do their work with less likelihood of losing track of details in an endless wave of emails, chats, comments, and unwieldy spreadsheets. SmartSuite offers a vast library of templates for core work processes and industry-specific workflows, so there's no need to start from scratch; just apply and customize a template to get started.
The Benefits of Work Management Software
It doesn't matter what industry you're in, your business type, or even how many employees you have (solopreneurs welcome!). Anyone can be more productive, professional, and organized using a platform like SmartSuite.
These are some of SmartSuite's most popular features:
| | |
| --- | --- |
| Feature | Description |
| Automations | Reduce data entry and time-consuming labor by automating the parts of your workflow that don't require a human touch. |
| Collaboration | Work and communicate in real-time in a central location without shared drives, folder permissions, and outdated files. |
| File Management | Every file you need in a single location. Ditch the shared drive and folders and instead access files from within the relevant workflow. |
| Integrations | SmartSuite can't literally do everything but combined with other business solutions like Zapier, Gmail, and HubSpot, it feels that way! |
| Member Directory | Find, connect, and collaborate with any team member, client, or contractor. |
| Notifications | Keep track of changes and updates with instant notifications. |
| Permissions | Use permission settings to keep things private and maintain accuracy by limiting who can view and edit Records and Files. |
| Reporting | Generate complex reports and use provided insights to refine processes and increase productivity. |
| Templates | Apply professionally created Templates to quickly set up new projects and workflows without reinventing the wheel. |
In short, SmartSuite primarily helps people work better by keeping everything in one location so you're not constantly searching for the information and files you need to complete your work.
The Basics: Getting Started with SmartSuite
We want to get you up and saving time as quickly as possible, so use our affiliate link to download SmartSuite and sign up for the free plan.
🎬 Click here if you'd like to watch a detailed walkthrough of your first hour in SmartSuite.
Once you've verified your account and established yourself as an official SmartSuite user, you'll be in your main Workspace. You'll see that sample Solutions and Records are provided but don't worry, you can delete anything you don't want later.
How to Add a New Solution and Apply a Template
A SmartSuite Solution is basically a container for Apps (databases). You can think of them as a collection of related databases or a spreadsheet with many tabs. They are at the top of the SmartSuite hierarchy, which looks like this:
My Workspace (Home)
Solutions
Apps
Records
Until you're comfortable building SmartSuite Solutions from scratch, you can use the many available Templates. There are so many to choose from that you may never need to design a Solution from the ground up!
Under the My Workspace tab, find Add New Solution.
Click the + plus symbol and choose Start with Template.
Type a keyword into the search bar on the Solutions Templates library page, such as accounts, marketing, or CRM. Or browse available Core and Industry Workflows using the vertical directory on the left.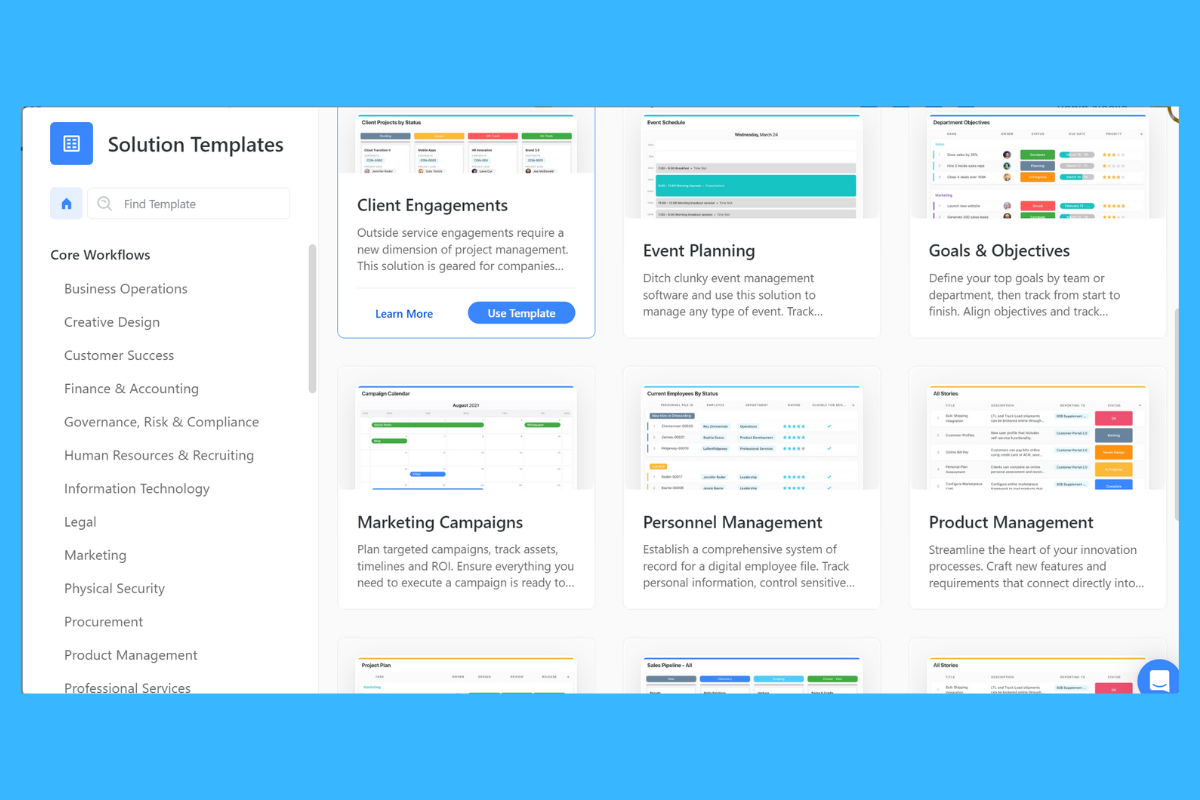 Click Learn More on any Template to preview it and read a brief description.
Click Use Template to apply it to your New Solution.
Pro tip: Don't worry if a Template doesn't have exactly what you want. Customization is the next step! Just select one that is closest to what you're looking for.
Customization in SmartSuite
The ability to customize nearly everything in SmartSuite is one of the features we love most! From Fields to Formulas to personalized colors, icons, and emojis, there are many ways to make your Workflows and Workspace your own. You can experiment with customizing Solution Templates, Apps, Records, and more using the steps below.
Customize a Solution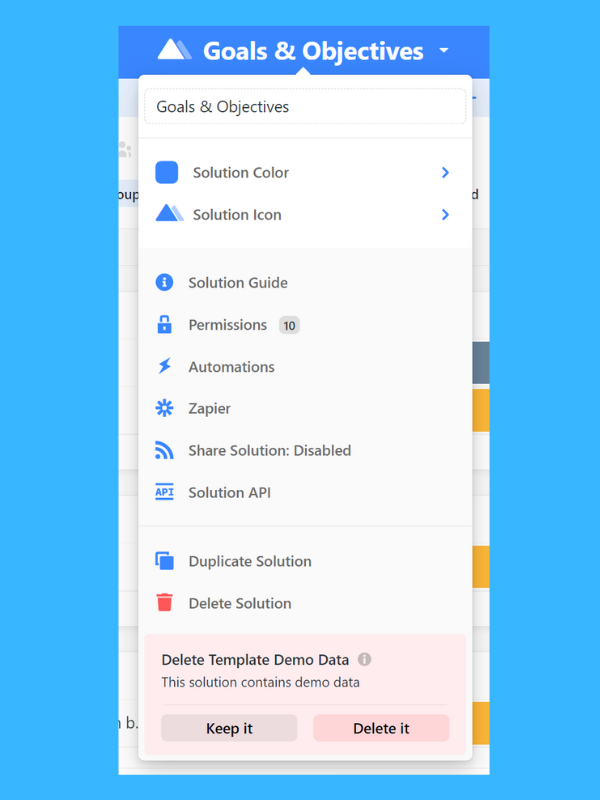 Let's change a few of the details in our new Solution.
Click on the Solution Name in the top center of your screen to access a dropdown menu.
Here you can rename your Solution and select a new color and icon if desired.
You can copy a Solution or, in the case of the sample Solutions provided with your new account, delete them if you choose.
You can also access advanced features like Permissions, Automations, Zapier integration, and the Solution API from this menu.
Add, Delete, and Rearrange Apps
Below the Solution name is a list of Apps (databases) associated with this Solution Template. Click the + plus symbol to create a new App or drag and drop existing ones to reorder them.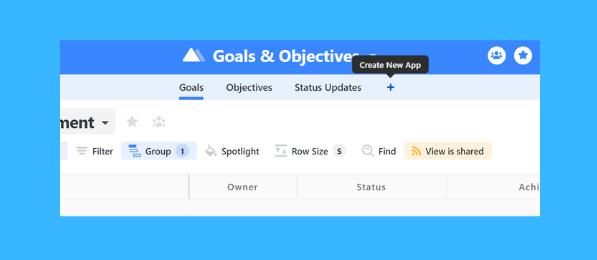 Once an App is selected, its contents will appear on the screen. Use the dropdown menu from the App name to rename, copy, or delete an App.
Getting A Better View
Many SmartSuite Apps default to Grid View, but this is easy to change.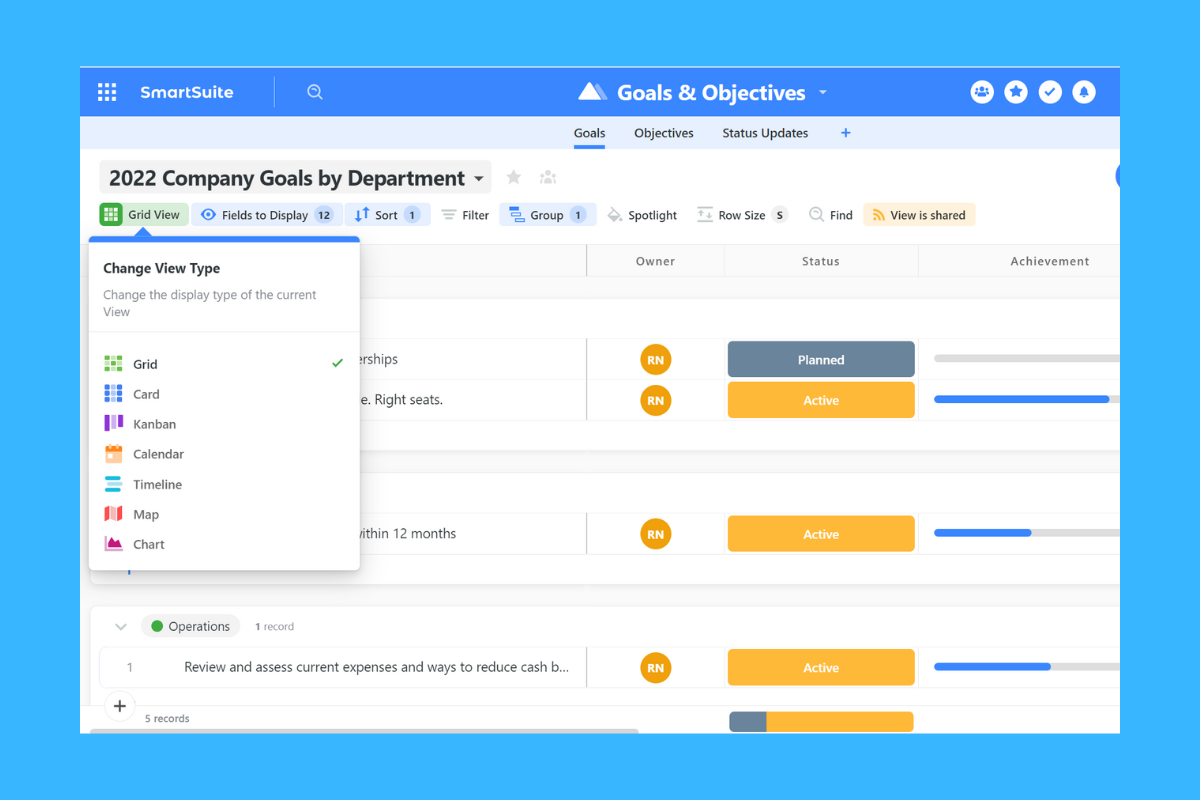 Access the dropdown menu from the current View name. (Do you see a theme for locating Action Menus?)
Here you can create a New View, Public or Private.
There are nine unique Views to help you best visualize your data. You may want to see distribution points on a Map View or use Card View for sales CRM. Create a public feedback Form, or interact with project management via Timeline View. Try them out!
Customizing and Creating New Records
The last major SmartSuite basic you need to know is how to create and customize Records because that's where all the most valuable data is stored.
You only need to edit or redesign a Record once. When customizing, changes apply to all future Records but not retroactively, so it's best to edit them sooner rather than later.
Hover your cursor over the Record you want to open and either double-click or press the spacebar (Grid view only).
Now you can evaluate which Fields apply to your business, which you'd like to keep, and which to discard. As with the other customizations, you can access an Action Menu near the Field name (look for a + plus sign and three dots in the right corner).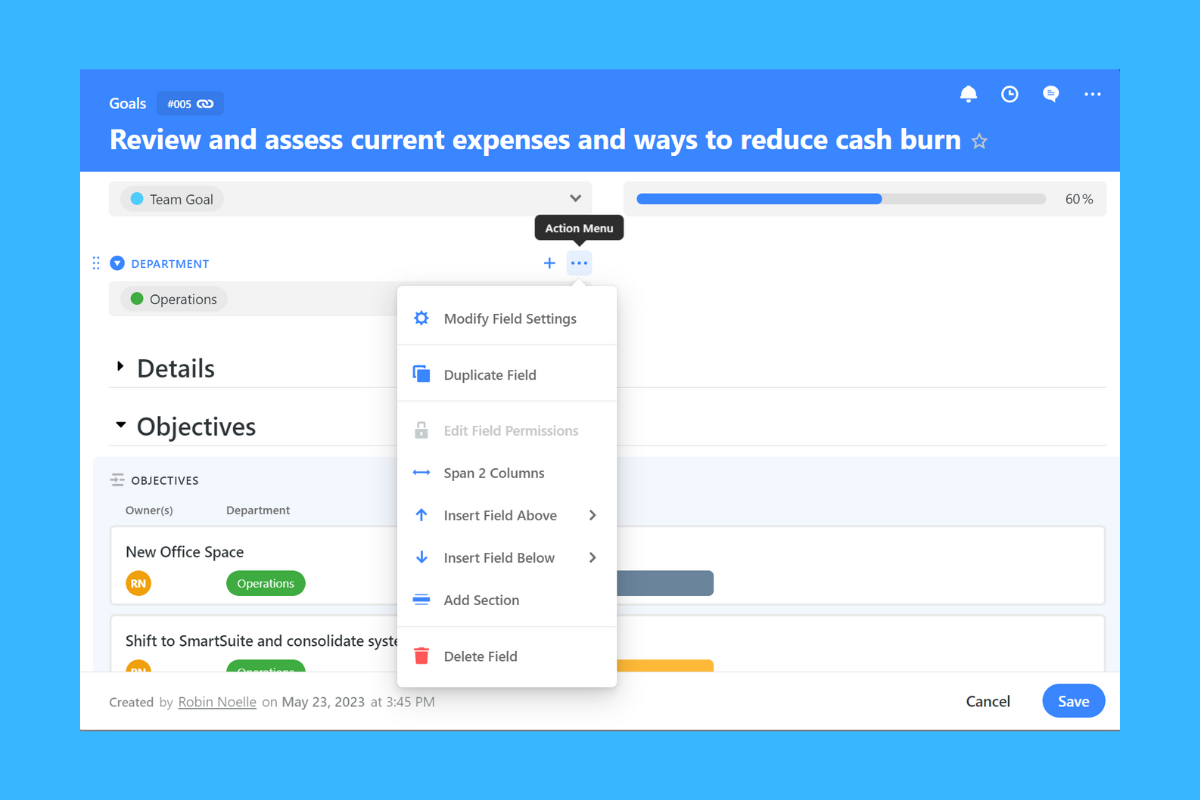 Using Modify Field Settings, you can do things like change the Field name and display format, add Help Text, set Default Values or Text, or make it Required, meaning the Record cannot be saved without entering a Field value.
In addition to customizing existing Fields, you can add new Sections and Fields to a Record. For a client CRM, you might create a Contact Section and have multiple Fields under Phone or Email. However you decide to design your Record is up to you. Drag and drop existing elements to rearrange them.
Obviously, we're just scratching at the very surface of SmartSuite basics here. There's a lot of helpful content waiting for you!
🎬 Watch it on YouTube: The SmartSuite Playlist from ProcessDriven
Or, if you want a quick SmartSuite masterclass, sign up for our online mini-course, How to SmartSuite™️, to learn all the essentials in less than 1 day.
Putting SmartSuite to Work
Now that you can move around in SmartSuite, find Action Menus, and customize things, let's start streamlining!
You may already have a purpose in mind for SmartSuite, but we recommend identifying, mapping, and documenting business processes as the best starting point. This establishes the foundation for improving workflows, setting up automations, and getting the most ROI from work management software.
Keep in mind that perfection isn't a reasonable goal here. Nothing is set in stone. Processes, like your business, are meant to evolve. They require tune-ups now and then to account for internal and external changes — like new technology, shifting priorities and goals, a global pandemic, those types of things.
Getting the Systems Straight
Streamlining operations, organizing workflows, and creating systems that keep your business running like a well-oiled machine all come down to process mapping and documentation. That is, taking the processes that you already do, like payroll, and recording the process from beginning to end, step-by-step. Not only will this allow employees to replicate any organization process, but mapping and documentation sheds light on potential areas of improvement.
If you're brand new to the concept of business systemization, we encourage you to begin here:
🎬 Is It Too Early to Create Systems in Your Business?
If you're unsure how to systemize your existing workflows, check out this video and blog:
🎬 How to Build Systems in Business | 3 Steps to Systemize Any Workflow in Business
This post is helpful if you have processes in place but haven't mapped or documented them yet:
🎬 How to Build a Process Map for a New Service (5 Easy Steps!)
Pro tip: Process mapping is different from process building. Mapping documents existing processes, whereas process building establishes new procedures.
Building a Process Documentation Library
If you're just starting with work management software, building out your documentation early will save time later when delegating, onboarding, and training.
At the beginning of this guide, we covered how software differs from a business system. Briefly, a system consists of processes, many of which software can facilitate. Taking this a step further, a process is a series of activities or actions to achieve a defined goal, and a 🎬 Standard Operating Procedure (SOP) contains the instructions for executing each process or activity.
SOPs transfer essential knowledge from your head and enable you to bring on temporary or permanent team members to take over specific tasks. Creating a process documentation library ensures that operations can continue should a key team member take leave. In an emergency, could a department outsider complete payroll accurately and efficiently, according to the approved process? If there are payroll SOPs, they can!
Creating and organizing SOPs in SmartSuite allows any team member to find instructions for common procedures and Frequently Asked Questions. Rather than distracting a colleague with questions, let employees know to check the library first and teach them how to create additional SOPs as needed!
The Essential Details
🎬 How to Document a Process in SmartSuite for Easy Delegation
🎬 How to Use SmartSuite to Organize SOPs and Business Documentation
SmartSuite Solutions for Every Department
Marketing
The fast-paced world of marketing is perfect for SmartSuite. Frequent communication and collaboration, approvals, budget updates, deadline tracking, file sharing, and juggling digital assets for multiple channels can overwhelm even the most organized team members.
In addition to planning and tracking, the creation of marketing content can easily spiral out of control. Videos, blogs, digital ads, website updates, email marketing, social media posts — it's hard to stay on top of all the deliverables!
Rather than creating a marketing plan elsewhere, like a word processing program, and importing the details, develop your plan in SmartSuite from the start. Not only will this keep everything unified, but features like setting Default Values and creating Automations will save time and make things easier as your business grows, roles change, and new team members join.
How can SmartSuite help?
Dedicated location to organize ideas and brainstorm.

Plan playlists, topic buckets, and blog categories.

Task management for content creators.

Group work by content type, priority, deadline, assignee, and more.

Link Records between Apps and Solutions.

Custom Views, Dashboards, and Reports.

Streamline workflow with Automations.

Manage digital assets with dependencies and Permission settings.
Learn More:
🎬 How to Simplify Your Content Marketing Strategy for 2023
🎬 How to Organize Your Repurposed Content Marketing Workflow
Sales
SmartSuite is perfect for keeping track of and managing sales opportunities. Use its features to log prospects, assign sales reps, estimate close dates, and set up automated reminders so you always know what's happening in your sales pipeline.
Reports and custom Dashboards can help you visualize forecasts and monitor quotas, while you stay current on every opportunity with real-time Notifications.
SmartSuite's resource library contains all the templates you need to customize Solutions like Sales CRMs, Territory Management, Commissions, Partners, Inventory, and Sales Contracts.
Remote workers and frequent travelers can use SmartSuite's full-featured mobile version to access and manage their accounts and Solutions via phone or tablet. With centralized file management, they'll have all their sales and marketing assets wherever they go.
SmartSuite's native Automations can handle repetitive sales tasks like creating new Records, sending client emails, and scheduling reminders. Plus, they're so easy to set up, you'll never need to rely on IT again.
Integrations combine SmartSuite with your favorite sales and marketing tools like MailChimp, Calendly, DocuSign, HubSpot, and Eventbrite.
How can SmartSuite help?
Personalized sales dashboards.

Task sorting by priority and due date.

Automations for email, calendar, event reminders, and sales closing workflow.

Communication logs and real-time collaboration tools.

Integration with thousands of external tools through Zapier.
Learn More:
CRM Automations can help keep the department organized and teams up-to-date, ensure vital steps aren't overlooked, and save everyone valuable data entry time.
🎬 8 Ways to Automate a CRM using SmartSuite Automations for people who hate Data Entry
🎬 How to set up a simple ecommerce solution with SmartSuite
Human Resources
When talking about work management software, maybe sales and marketing seem like a given, but how about human resources and people management? SmartSuite can help with onboarding and training, time tracking, PTO requests, and performance, as well as provide a comprehensive learning center for the employee handbook, knowledge library, and, naturally, SOPs!
The SmartSuite library provides Templates for employee directories, HR handbooks, hiring, time off requests, job listings, and employee performance to help you optimize the recruiting pipeline, coordinate with hiring managers, track candidate progress, and record feedback.
Make a good first impression on new employees with a customized workflow that matches your organization and culture.
Ditch the HR binder and give all employees instant access to employee handbooks and policies and procedures. Organize all your HR resources in one place to make it easy for employees to find what they need when they need it.
How can SmartSuite help?
Privacy and Permission settings protect employee information.

Track and manage recruitment and hiring KPIs.

Collaborate with hiring managers and other stakeholders.

Automations for common HR tasks.

Combine features with popular HR software integration.
Learn More:
🎬 HR Software for Small Businesses? Try an (Affordable) Work Management Software!
Six Easy but Helpful SmartSuite Shortcuts
| | |
| --- | --- |
| Shortcut | Description |
| #1 Selecting Favorites | Click the Star next to the name of any Solution, App, View, or Record to add it to your Favorites. Access your Favorites from the Star that's always located in the top bar of your SmartSuite screen. |
| #2 Seeing Double | To copy a Field, Application, View, or Solution you like, just access the Action Menu and select Duplicate. |
| #3 Power Search | Search all of SmartSuite and quickly see your most recently accessed Solutions and Records by clicking the Search icon to access Power Search. |
| #4 Make Room | Use the arrows icon at the top right of any SmartDoc Field to instantly expand or contract it. |
| #5 Go Big | Looking for a full-screen view? Click the three dots to the right from a Saved View or Record to access the Action Menu. Select Full Screen to expand your view. The Exit Full-Screen icon will return the view to normal. |
| #6 Hide Your Tools | If you prefer a clean interface when reviewing data in a saved View, access the Action Menu via the three dots and deselect Show View Toolbar. |
Learn More:
🎬 Check out Layla's picks for 8 Hidden SmartSuite Features that add a ton of value!
SmartSuite Mobile: Take Productivity with You
The mobile version of SmartSuite is perfect for frequent travelers, field technicians, salespeople, and other professionals that spend time out and about. It's surprisingly full-featured and intuitive to use. While a few tasks are better suited to a computer, like modifying Field settings, you can easily create and use Solutions, Apps, and Records on a variety of devices.
In the video below, ProcessDriven CEO Layla Pomper offers a brief tutorial on SmartSuite's mobile features and demonstrates how you can use this powerful tool to keep your business and workflow organized on the go.
Learn More:
🎬 How to Use the Mobile Version of SmartSuite
Wrap-Up: Improving Your Processes and Streamlining Workflows
If you've reached this part of the guide, it might be time for some deep breathing exercises. 🧘
We've covered a lot of SmartSuite's basics and workflow potential, which may seem overwhelming. SmartSuite can do so much. Where do you begin? When do you tackle new workflows? Create new Solutions?
Our best advice is to start by building one Solution but don't be afraid to branch out.
A few things to keep in mind:
1. Free yourself from unrealistic expectations. Whether today, tomorrow, or six months from now, there will be tweaks and process changes that can improve the system. Process perfection, if achievable, is temporary at best!
2. Business processes are a living system. There is no "one and done." It's a bit like going to the gym or cleaning the house. Processes require regular effort and maintenance to keep seeing positive results.
3. You determine the pace. Don't get bogged down documenting the perfect marketing workflow and procrastinate implementing other helpful Solutions. Work on creating solid foundations before trying to build an entire neighborhood!
4. Embrace change. The more you use SmartSuite for your processes, the more opportunities you'll have to see what works for you and your team and what doesn't. Don't be afraid to scrap something that doesn't help or improve your life. There's no "right" way that works for everyone!
Streamlining your processes can:
Encourage a culture of improvement.

Free up resources.

Increase profitability.

Improve customer happiness.

Enhance employee morale.

Reduce frustration and time spent on tedious tasks.
Learn More:
🎬 How a Process Improvement mindset helps you, your team, and your SOPs
---
When you're ready for a deep dive into work management, sign up for our online mini-course, How to SmartSuite™️, to learn SmartSuite essentials in less than 1 day.
You can also join our community and benefit from peer learning, exclusive content, and expert answers to your questions during regular livestream events with our signature training program, ProcessDriven Foundations™.
Thanks for reading our Unofficial SmartSuite Survival Guide! We post new SmartSuite content regularly, so be sure to visit our YouTube channel and hit the subscribe bell so you don't miss a thing!
Until next time, enjoy the process! 👐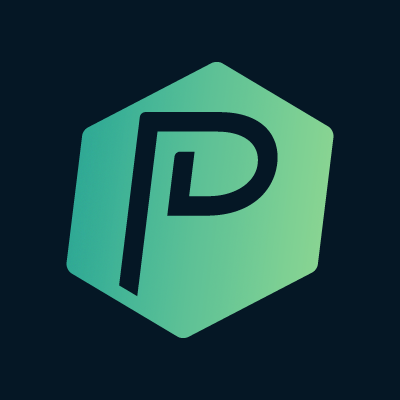 ProcessDriven helps small teams turn chaos into process. The ProcessDriven Approach™️ combines software expertise with practical process-first strategies that have helped 1,600+ teams build a scalable foundation of business systems.