You're a ClickUpUse our ClickUp affiliate link! user excited to install the ClickUp mobile app but, when you look in the app store, there are two ClickUp mobile apps. You might find yourself wondering, "Which ClickUp mobile app do I actually need?"
It's confusing…but that's why ClickUp Consultant Layla at ProcessDriven is here to help you make sense of it! 😉


Not a video person? No problem! Just keep reading. We'll cover all the main points in this article.
Why are there two ClickUp mobile apps?
Back in the day, ClickUp had only one app. It was a non-native app that, effectively, just "wrapped" the web experience of ClickUp. It was cramped, slow, and quite similar to what you'd see if you just opened app.clickup.com in your phone's browser.
Mobile-first users weren't happy.
In response, ClickUp released a brand new native mobile app around February 2021. As an app designed specifically for mobile users, it was faster, prettier, and far more thumb-friendly than its predecessor. The problem? It wasn't complete!
In true ClickUp style, the new mobile app was launched with just a handful of basic features. At the time of writing this article (15 months later), we'd estimate the mobile app is about 80% complete.
Luckily, as the "main" mobile app is being developed we still have the old app to fall back on!
Want tips about ClickUp directly in your inbox? Join our newsletter, The Workin' Process, for tips and tricks every week.
How to Recognize the Old vs. New ClickUp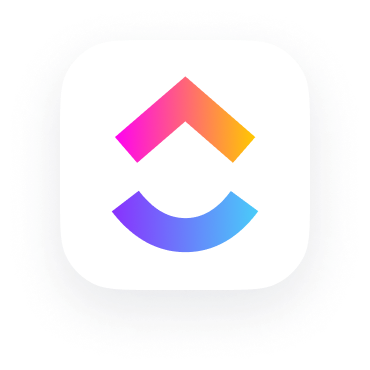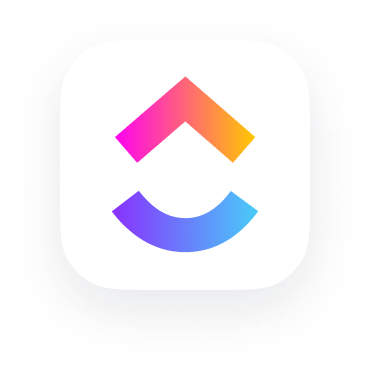 How can you tell which app you're using?
The easiest trick for recognizing which mobile app you're using is to look at the Icon for the app on your phone. (You'll see this icon on the app store installation page and any time you go to open the app.)
The "old" mobile app features a colorful background while the "new" mobile app has a sleek white background.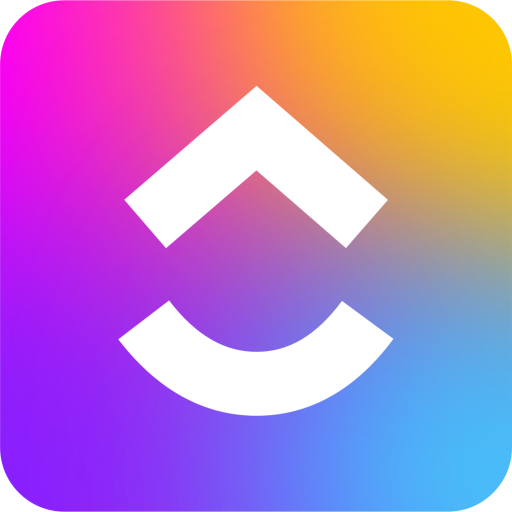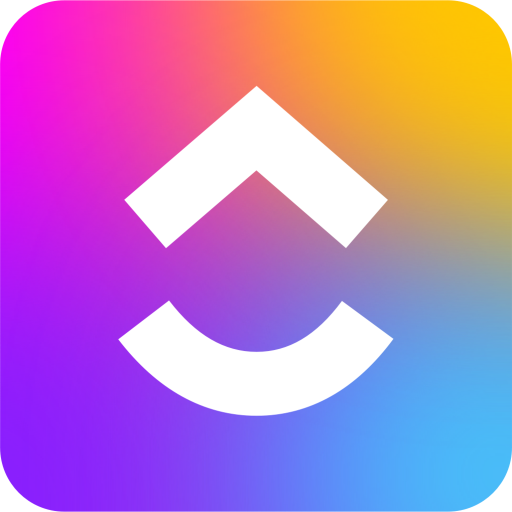 What does the legacy ClickUp app look like?
Once inside the app, you can confirm you're in the "old" ClickUp app by the sidebar. In the older app, the sidebar will look identical to the ClickUp layout you'd see on your computer.
What does the new ClickUp App look like?
If you're inside the new Clickup mobile app, you'll recognize it by the lack of a sidebar. By default, you'll see a hamburger menu (three horizontal lines) in the top left corner of your new mobile app. When selected, your navigation bar will expand to be an almost full-screen menu.
This is a completely different look than the skinny sidebar you're used to seeing on the legacy mobile app or on the normal web version of ClickUp.
To watch this explanation in video format, watch the video at the top of this article at timestamp 00:42.
Which ClickUp app do I need?
Comparing Feature Differences between ClickUp Mobile Apps
So far, we've mentioned that the new ClickUp mobile app has fewer features than the old mobile app. But does that really matter?
We'll break down the differences (and similarities) across eight commonly-used mobile features below and let you decide!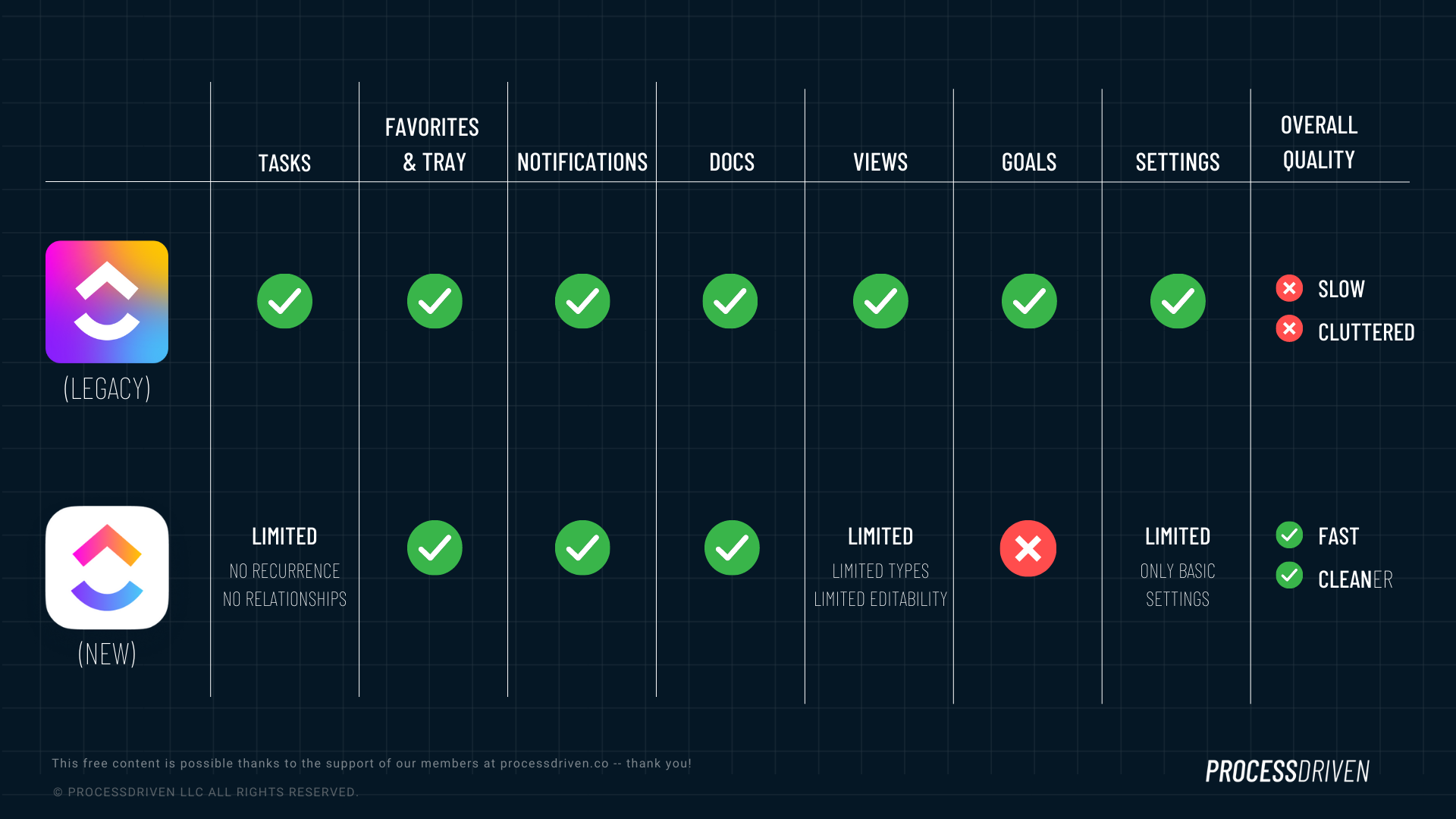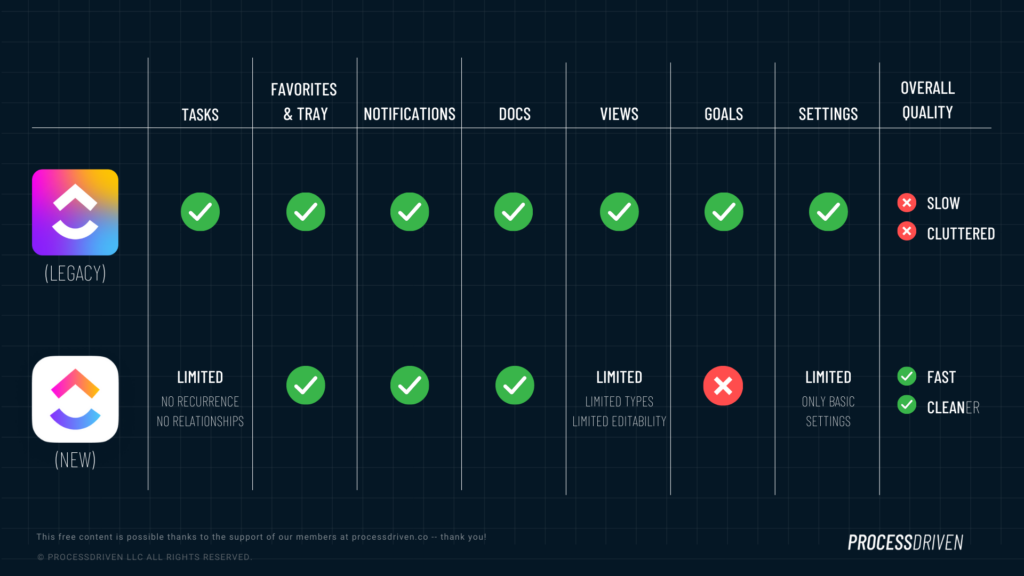 To summarize the chart above:
Tasks

The new app has limited ability to set up recurring due dates. As of Release 2.126 you can set up recurrences but you still cannot access Legacy Recurring settings.
The new app doesn't allow you to edit Relationships.

Favorites & Tray

No major differences unless you have a Favorite that is an unsupported View Type.

Notifications
Docs
Views

The new app only supports a small number of View types.
The new app doesn't allow you to edit all View settings.

Goals

The new app doesn't include this feature at all!

Settings

The new app only allows you to alter very basic settings.

Overall Ease of Use

The old app is slow and cluttered.
The new app is faster, cleaner, and prettier!
To watch this explanation in video format, watch the video at the top of this article at timestamp 02:18.
How can I install the ClickUp mobile app?
You can install both Click Mobile app(s) for your mobile device for free at the Google Playstore or the Apple App Store. To make it even easier, we'll also include the direct download links below! 😉
Links to install the ClickUp Mobile Apps for Android Devices:
Links to install the ClickUp Mobile Apps for iOS Devices:
If you'd like to explore other ClickUp downloads (like the ClickUp Desktop app), you can click here!
Ready to learn more? Join our newsletter, The Workin' Process, for articles like this to be delivered right to your inbox.
Wait…Do I need both ClickUp mobile apps?
Yes, we recommend all ClickUp users install both the "old" and "new" ClickUp mobile apps on their phones or tablets. That way, you can have all the speed of the new app and easily switch to the old app if you need a feature that isn't currently supported on ClickUp's up-and-coming new mobile app.
Oh! And I should remind you that this article was written in May 2022. ClickUp is consistently working on its new mobile experience so you can always find updated information about the ClickUp mobile app by checking out ClickUp's help docs and the mobile app section of their feedback board.
Until next time, enjoy the process!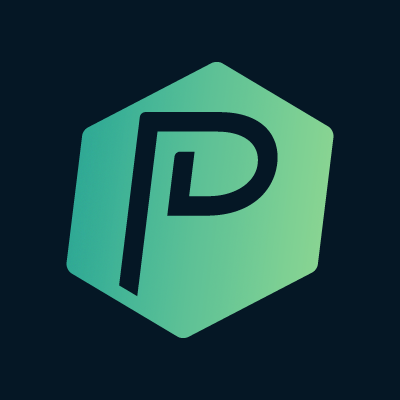 ProcessDriven helps small teams turn chaos into process. The ProcessDriven Approach™️ combines software expertise with practical process-first strategies that have helped 1,600+ teams build a scalable foundation of business systems.