Wondering how to build SOPs in ClickUpUse our ClickUp affiliate link!? What about how to determine what's worth including in an SOP if you're trying to build a more streamlined business process? If you're a small business looking to grow your business systems, DON'T overthink it!
The 3 main parts of a great SOP are Start, Stop, and Steps.
In the video below, we'll demonstrate exactly how to build SOPs in ClickUp. We'll be using an example in our very own ClickUp Template for SOP Management!
ClickUp is a free project management tool – not a traditional, boring, SOP software. SOPs in ClickUp are so simple and intuitive that it's hard to resist not taking advantage of this added feature!


Let's dive in.
How to Build SOPs in ClickUp (& use it as a Database System)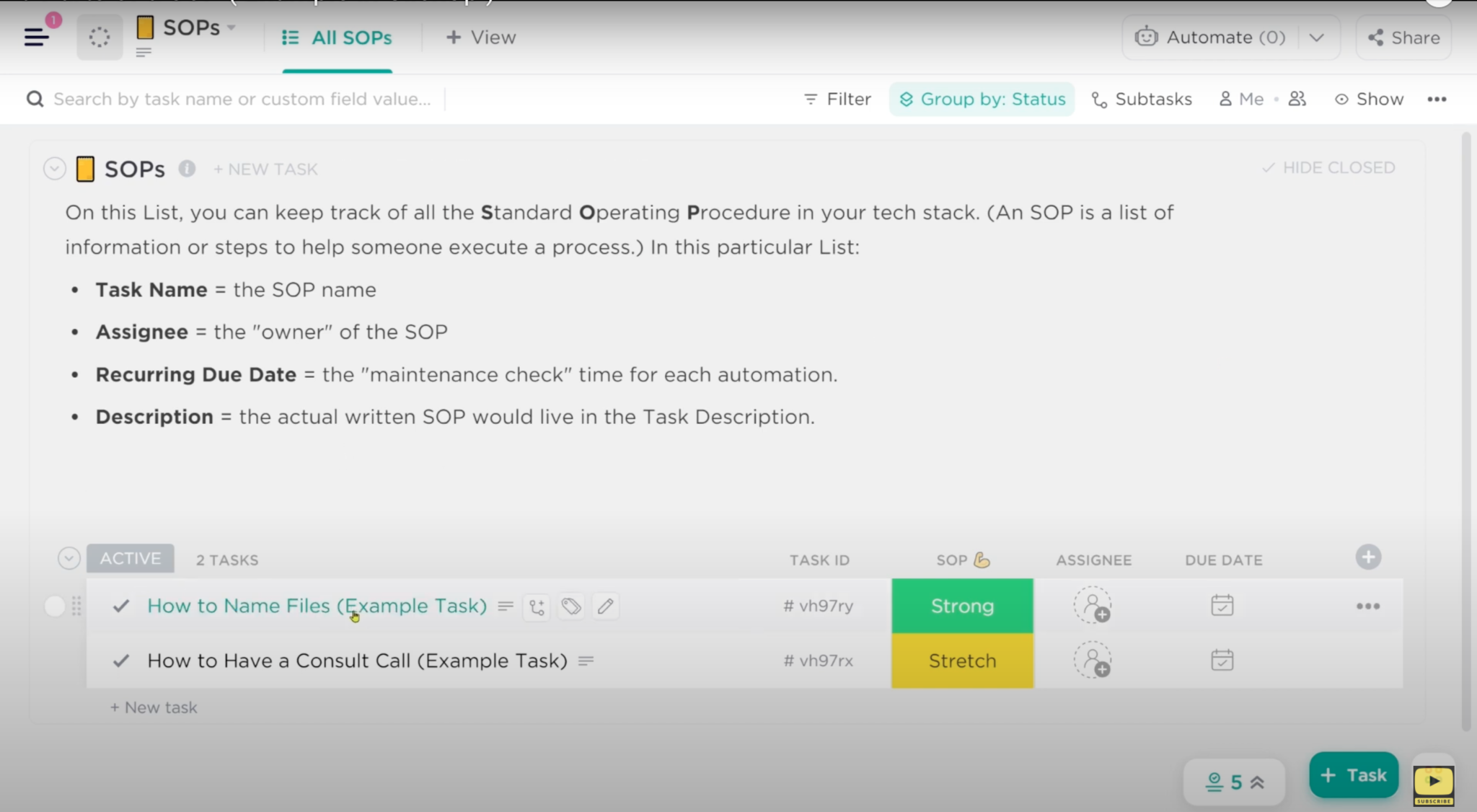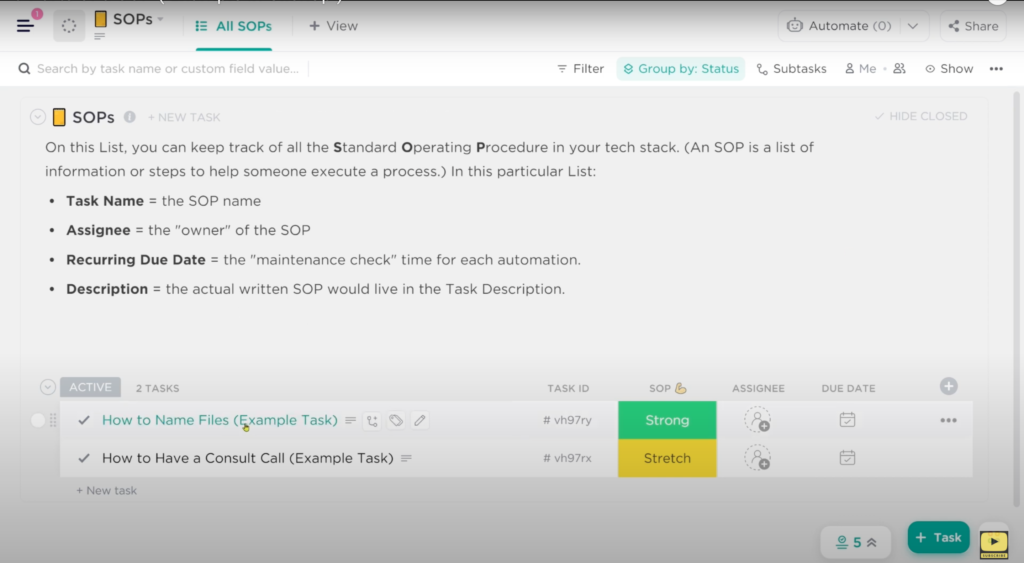 ClickUp is not a database software — and we're not sure that they ever intend to be. However, by making just a few tweaks to how you view Tasks inside ClickUp, there are ways to utilize this tool to be both a project management software and a database system!
To keep everything in one place, we store our SOPs right inside ClickUp. This also makes it accessible to everyone in our Workspace. Therefore, we don't have to worry about embedding and sharing permissions to outside tools like Google Docs.
We've recently chosen to move away from ClickUp Docs and now store our SOPs in ClickUp as "tasks."
Notice the lower case "t" there. These "tasks" are not like traditional ClickUp Tasks with project due dates that are checked "Complete" when finished.
Basically, one "task" here is equal to an SOP. We then add specific columns to the Task View that we can use as starting points for referencing those SOPs throughout our Workspace.
We have:
The Task Title: title of the SOP.
The Task ID: useful when creating Automation Databases inside our ClickUp account.
The Strength of the SOP: dropdown Custom Field that we use to subjectively evaluate how well we think that SOP is working and if it needs some edits.
Assignee and Due Date: refers to the owner of the SOP and the frequency that we want to have this SOP updated.
Layla expands on this starting at 00:37.
How often should I update my SOPS?
Every process in your business should be updated regularly. This is rather subjective depending on what process we're referring to. If it's a daily process, "regularly" might mean updating it every few weeks. If it's an annual process, maybe that's every few years.
Building SOPs is not a one-and-done process. One reason we see small business owners continue to put off their SOPs is because it's something that needs to be updated over time. You're never really quite done.
The key here is to build SOPs in ClickUp in an editable way. Small steps may change the process in the slightest way possible. Without the ability to add/edit small steps inside the SOP, the entire team suffers because of outdated/inefficient processes. The better — and more recently updated — an SOP is, the easier it is to pass it on to a new hire or a co-worker filling in for you during a vacation.
Layla walks through how to edit SOPs in Clickup starting at 01:35.
3 Parts of an SOP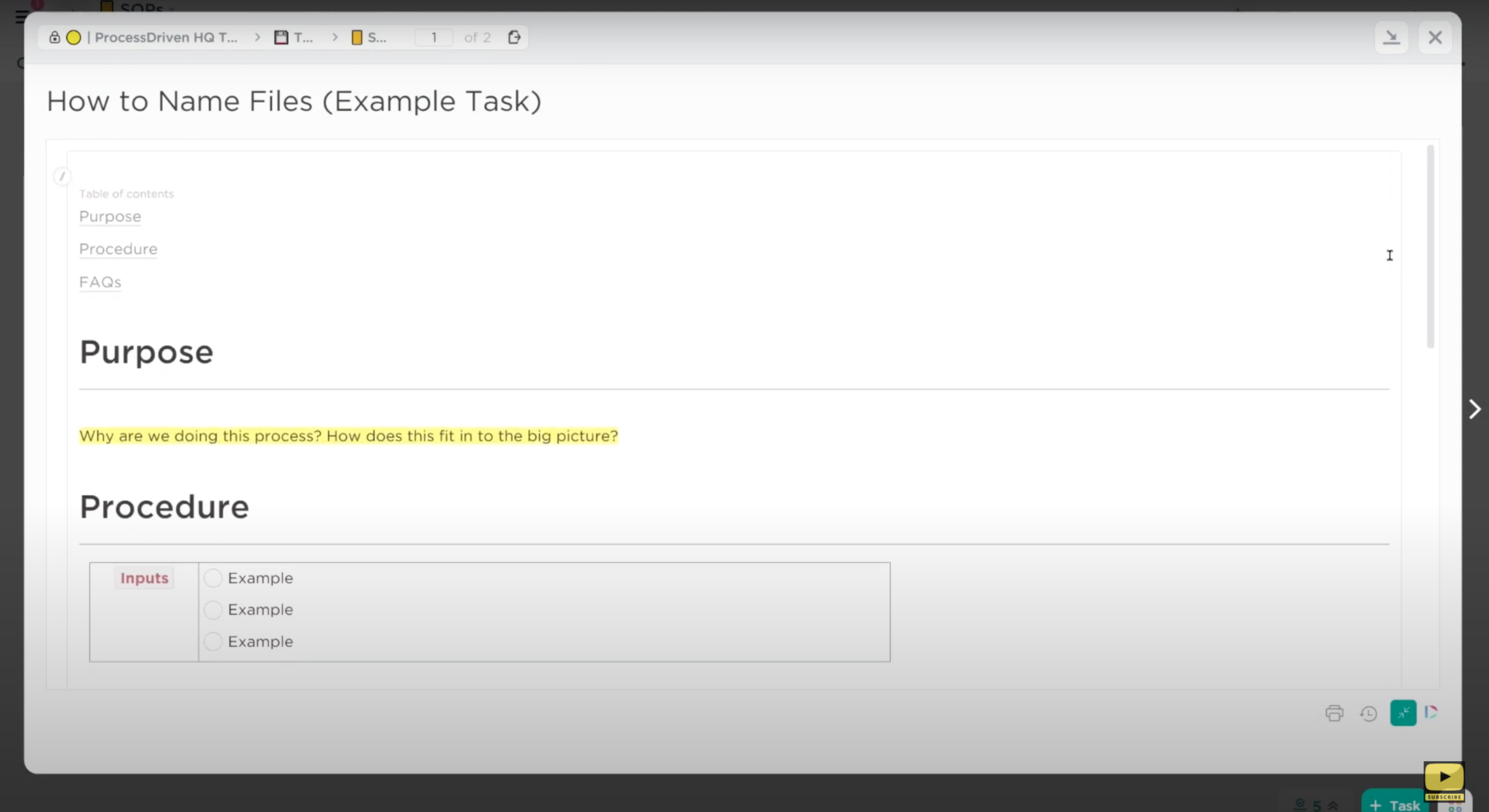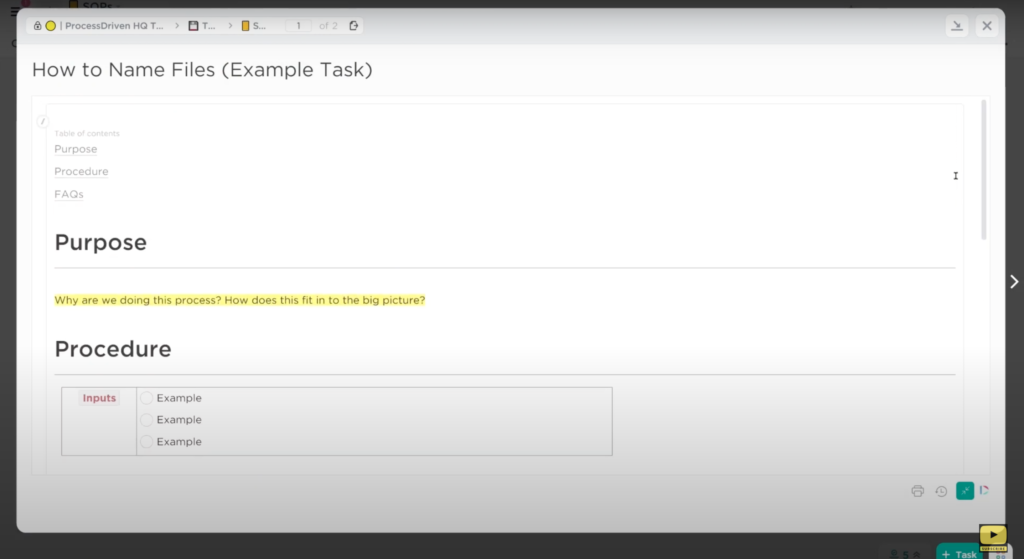 We realize that, at first glance, these look nothing like your typical standard operating procedures. In our opinion, most businesses completely overcomplicate their SOPs. They put WAY too much work into formatting them with "perfect" instructions and using an old-school template they found online. Yet, nobody reads them.
Don't overthink it!
SOPs are meant to be clear, readable, easily searchable, and to the point. You want to explain how to complete a task as easily as possible. Your SOP should be presented in a way that's bite-sized and takes you no more than 20 minutes to create.
Now let's talk about the 3 key parts of a (good!) SOP:
Purpose: This is where we explain the big picture result of this process.

Rather than saying the purpose of responding to social media inquiries is just a routine task, try something like "the purpose of our support ticket process is to make sure that our customers feel valued, which then increases retention, which ultimately increases the revenue of our business." We're looking to give both our process and our team purpose.

Procedure: A way to break down how to complete the task by having 3 areas of focus.

Inputs: What you need to get started.
Outputs: What you get when you're done
Steps: What you need to do in between.

FAQs: This becomes a sort of catch-all for good examples, bad examples, common questions, confusion, term definitions, etc.

This section can be added to over time. If a team member approaches you with a simple question, answer it. Then ask them to add that to the FAQ section as a note to the next person.
And that's it! You've finally created the SOP you've been putting off for months! That wasn't so bad, was it?
Would you like to get a bigger picture of how this all fits into the business systemization strategy? Check out How to Build Systems in Business | 3 Steps to Systemize Any Workflow in Business.
Layla goes into detail on each part of an SOP starting at 02:30.
Using ClickUp's Relationship Feature with SOPs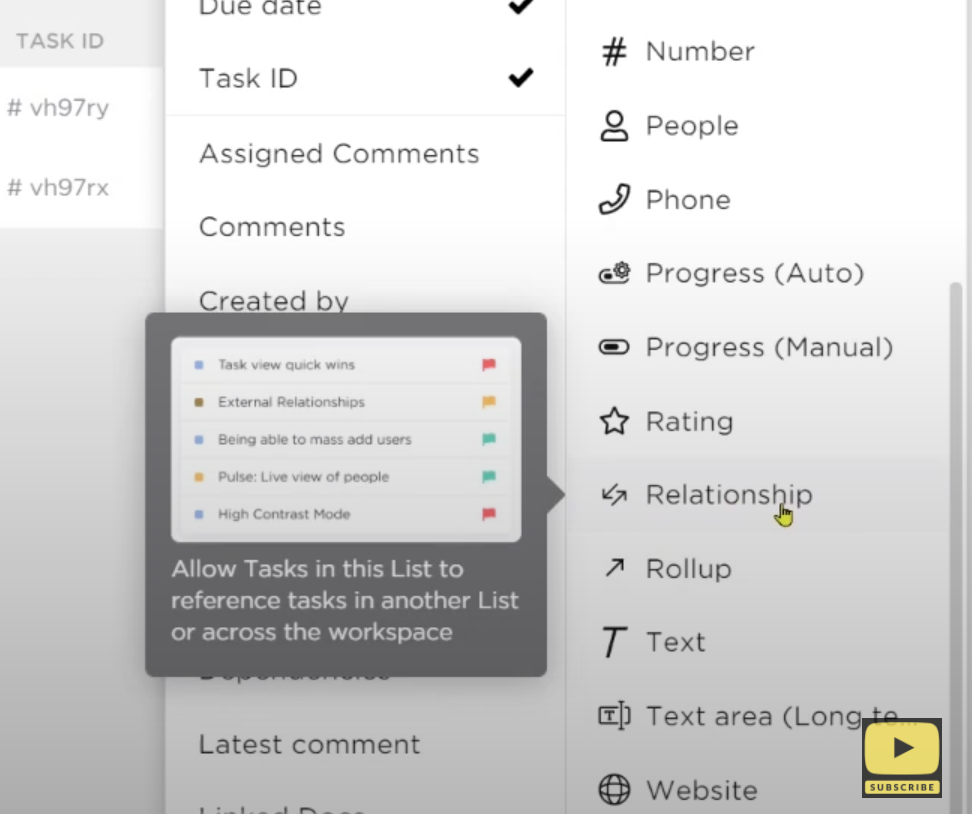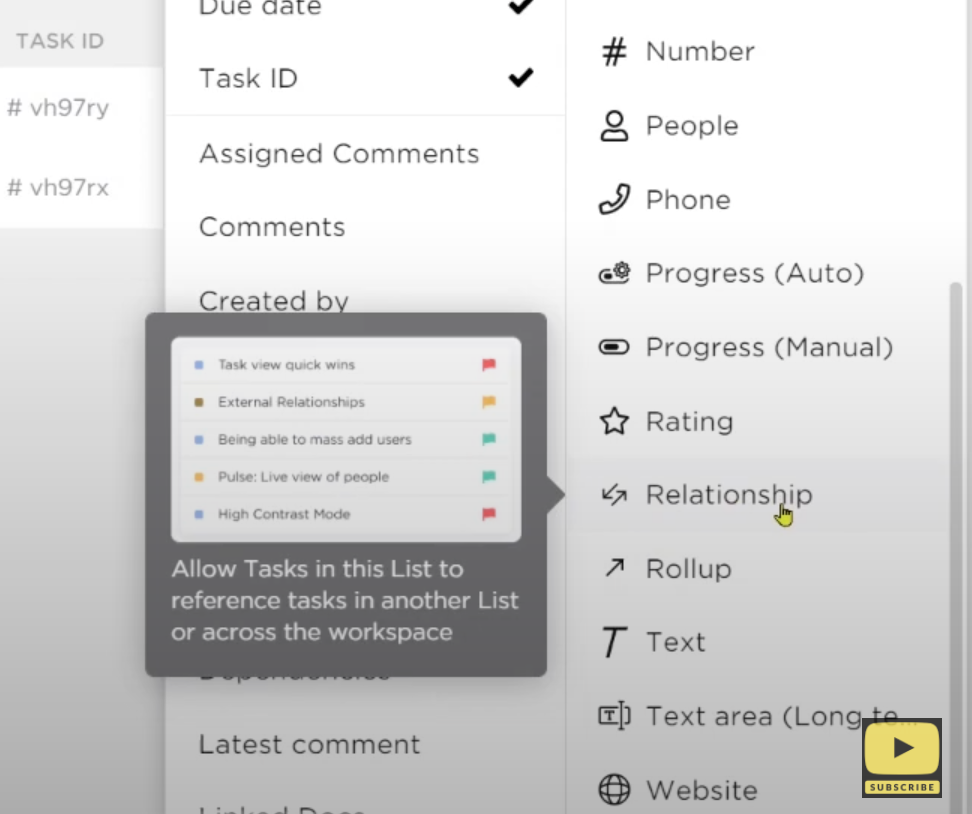 Once you've created your SOPs and have delegated them to someone on your team, it's time to relate those SOPs to the Roles, Tasks, and projects that they're outlining.
Layla walks through exactly how to create Relationships in ClickUp starting at 08:44.
If you've made it this far, and you're still not sure where to start, check out 4 Easy Reference Charts to Create (to Start Systemizing Your Business).
Until next time, enjoy the process!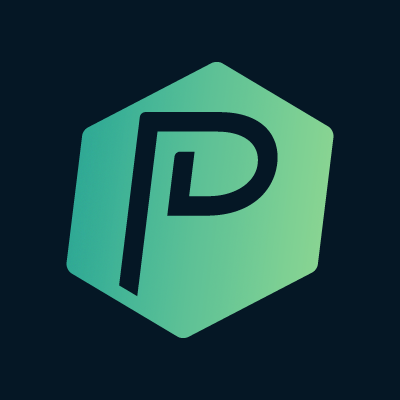 ProcessDriven helps small teams turn chaos into process. The ProcessDriven Approach™️ combines software expertise with practical process-first strategies that have helped 1,600+ teams build a scalable foundation of business systems.