Wondering how to send emails directly from ClickUpUse our ClickUp affiliate link!? Well, ProcessDriven member Abi can show you exactly how! She's worked the "email from ClickUp" feature directly into her ClickUp CRM for the coach she's working with.
🕵️‍♀️ About our Guest: Abi is the owner of Abi-lities Virtual Assistance where she helps clients manage their time and organize their projects.
🙋‍♀️ Want to also take advantage of our Integromat link? Get a 30-day free trial of their Business Plan here.
You asked, we delivered
One of the most common requests we hear is to get a sneak peek into other people's ClickUp accounts. It can be so inspiring to see how other people use this tool to get organized in their businesses.
Today, we invited one member from inside our ProcessDriven membership to give you a breakdown of a particular process that works incredibly well for her. We'll introduce Abi, who has worked hard to build a ClickUp CRM to manage clients as a Virtual Assistant.
Meet ProcessDriven Member, Abi
Abi has been in the ProcessDriven community for a while and has been working hard to build out her own process. While there's a lot we could learn from her, today, we'll be focusing on one process that is a key takeaway: how to start using ClickUp as a CRM.
Setting the Scene – How Abi uses Email from ClickUp to really make this EMail CRM workflow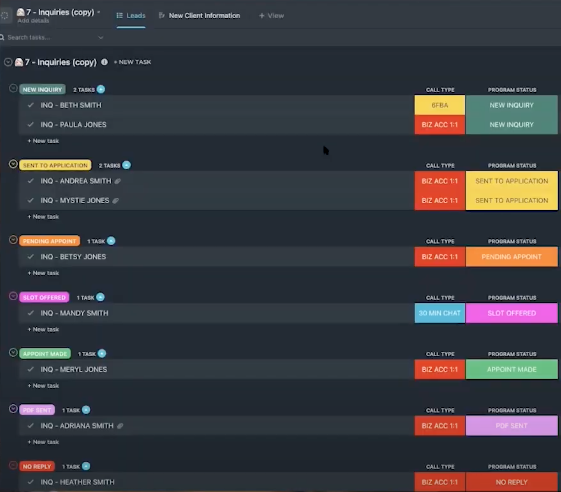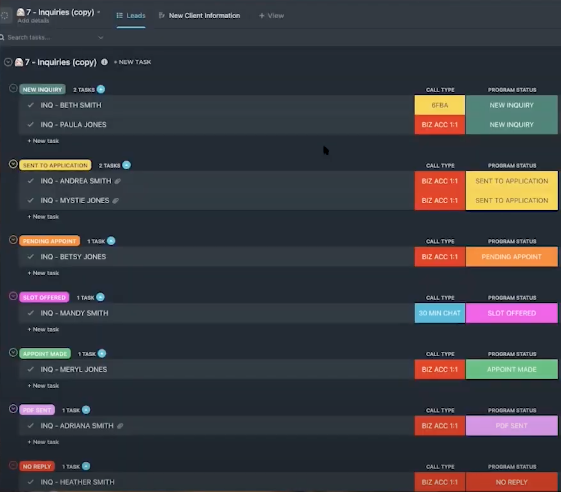 Our main focus here is how she uses the "email from ClickUp" feature.
Just to set the scene, in Abi's ClickUp workspace, each task represents a person. In lieu of a Status, she's using a dropdown menu. (If you're not sure why she's doing that, we give more details here: Field vs Status.)
Each of the dropdown menu choices represents where they are at in the client journey.
As people move through the workflow, she has emails with templates ready to go to send inside of ClickUp. That way, she doesn't miss any important steps or information for potential and current clients.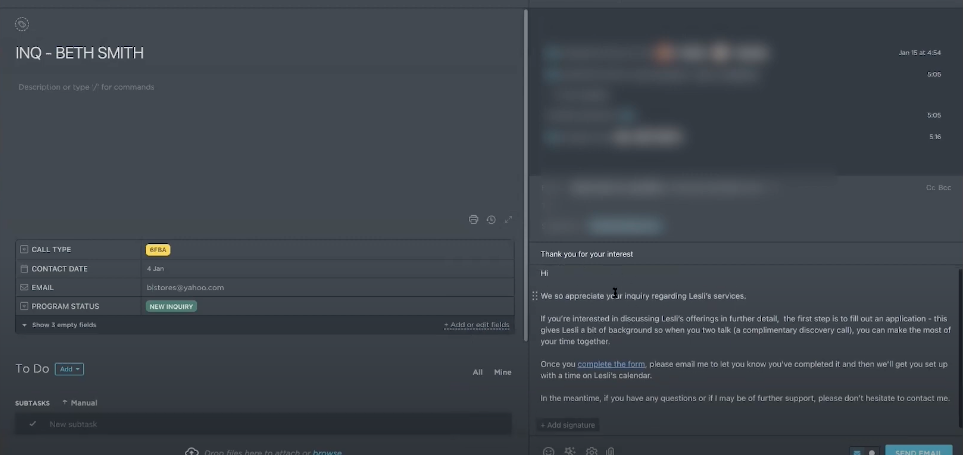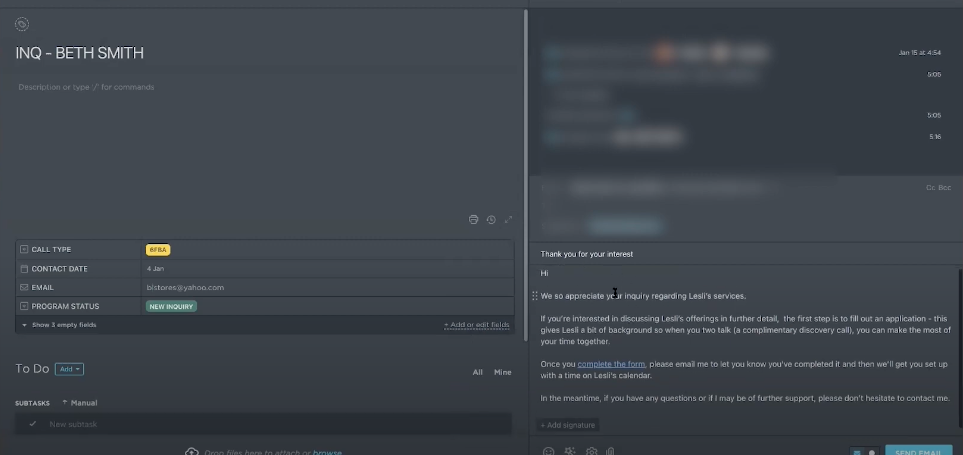 At the moment, Abi's current process is to manage everything from inside of ClickUp so she can get a birds-eye view of all the information people have and what stage they're in. Some labels/stages include new inquiry, sent to an application, pending appointment, and so on.
The beautiful part is that it mostly works manually, which proves that not every kind of process needs fancy automation and complicated formulas. Sometimes, just simply manually moving people through your process can be enough to keep your workflow going and keep you organized.
"But Abi, shouldn't you be automating everything??"
Something we really want to highlight from our talk with Abbi is that until you're using a process day-to-day, it can be hard to figure out what exactly you should automate.
You could work for hours on end to set up beautiful, complicated automations and yet realize they're worthless in just a few days because you changed a part of your workflow. Be sure to spend time with your ClickUp CRM process before you decide on an automation solution. Having that human touch to certain types of processes can be important!
She's starting to use Integromat inside of her system to start automating things (find out how to use Integromat for this specific and incorporate your email CRM here), but she figured out her system and processes first before she started automating.
So much to learn, so little time
We are so grateful to Abi for sharing her process with us. She even did the hard work of going through the org chart to figure out everything needed to smooth out her processes.
She wanted to remind everyone that everything is more about processes than anything else.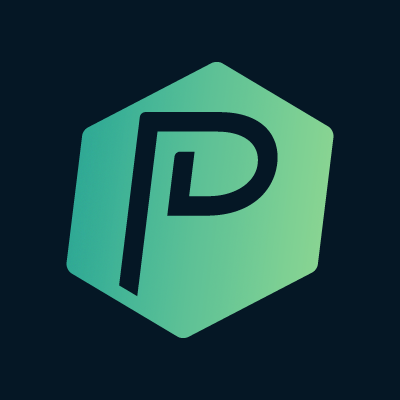 ProcessDriven helps small teams turn chaos into process. The ProcessDriven Approach™️ combines software expertise with practical process-first strategies that have helped 1,600+ teams build a scalable foundation of business systems.