BUILD AN HQ to Turn your work into workflows:
Remove the chaos from daily tasks.
Inside the ProcessDriven Membership, you'll unlock the proven roadmap, expert support, and time-saving resources that have helped 1,357+ teams streamline and build a scalable HQ for their business workflows directly within their work management platform, ClickUp.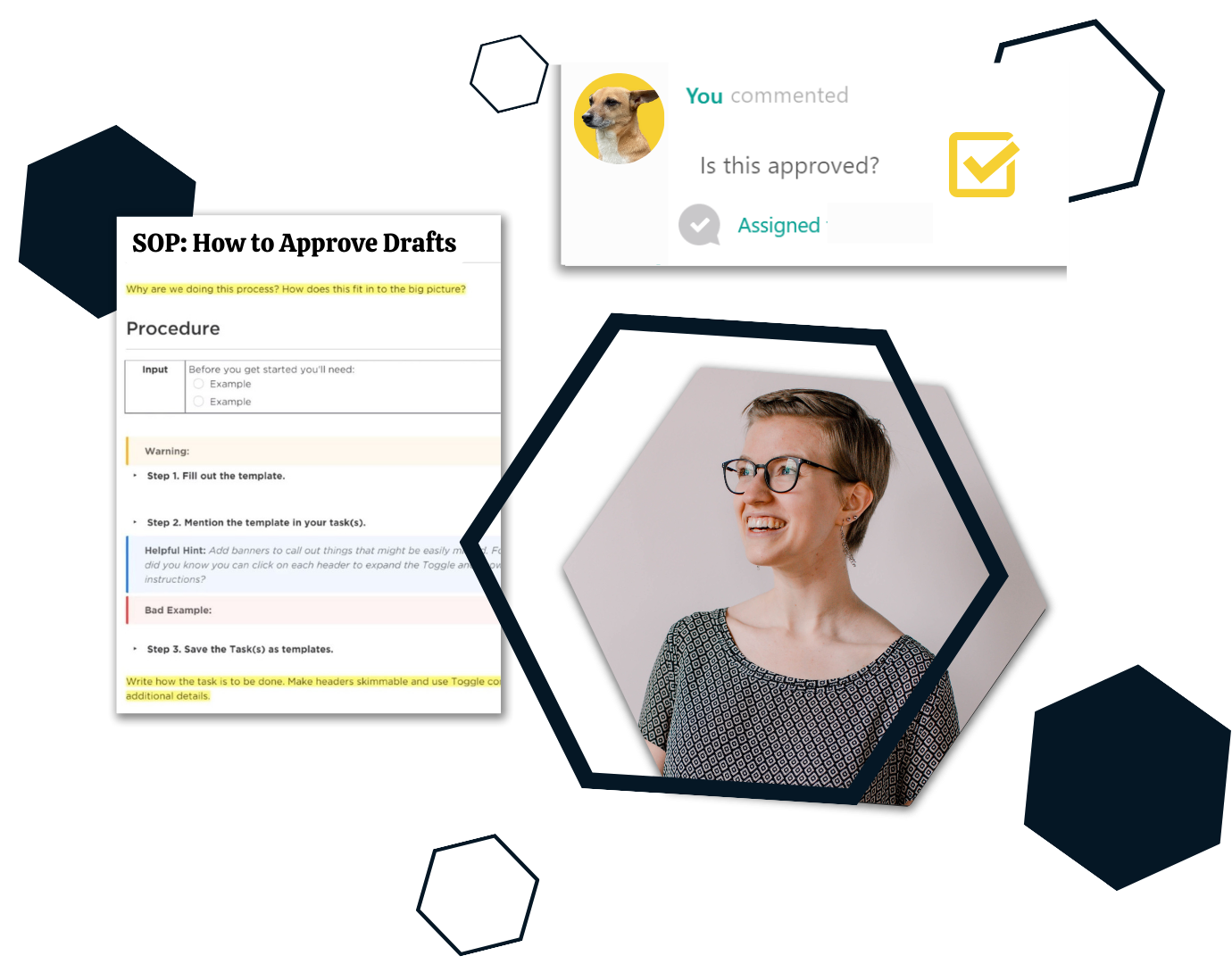 Members Transforming Their Team With This Proven Program
Years Equipping and Empowering Business Owners & Leaders
YouTube Subscribers Building Strong Processes
Independent ClickUp Content Creator in the World
"The ProcessDriven methodology just took our machine from being a trusty Toyota to a bad-ass BMW M3…
[I've seen] a measurable 75x ROI over this year within a week of implementing what I learned in ProcessDriven…assuming I change nothing in my business from this point onward. But you know it's gonna get even better as I get more processes built and use them to scale our company."
Richard, processDriven member
Strong PROCESSes can TRANSFORM YOUR OPERATIONS...
& Reclaim Wasted Time Every Single Week…
You know the right software and systems could level up your entire business. If you had a "business HQ" you could remove inefficiencies, eradicating bottlenecks, and finally focus on growth.
…in theory.
But in reality? I'm guessing your journey to mastering processes and systems hasn't been so simple.

BUT NO MATTER HOW GREAT PROCESS IS IN THEORY...
TO GET RESULTs, YOU NEED TO KNOW HOW TO apply process-building to reality.
No matter how powerful system-building can be, it's useless unless you understand how to actually apply it in your own real-world operation.
Perhaps you or your team have struggled with the practical side of navigating ClickUp, or maybe it's the fundamentals of systems and processes that are holding you back… either way, you're not seeing the result you want (yet).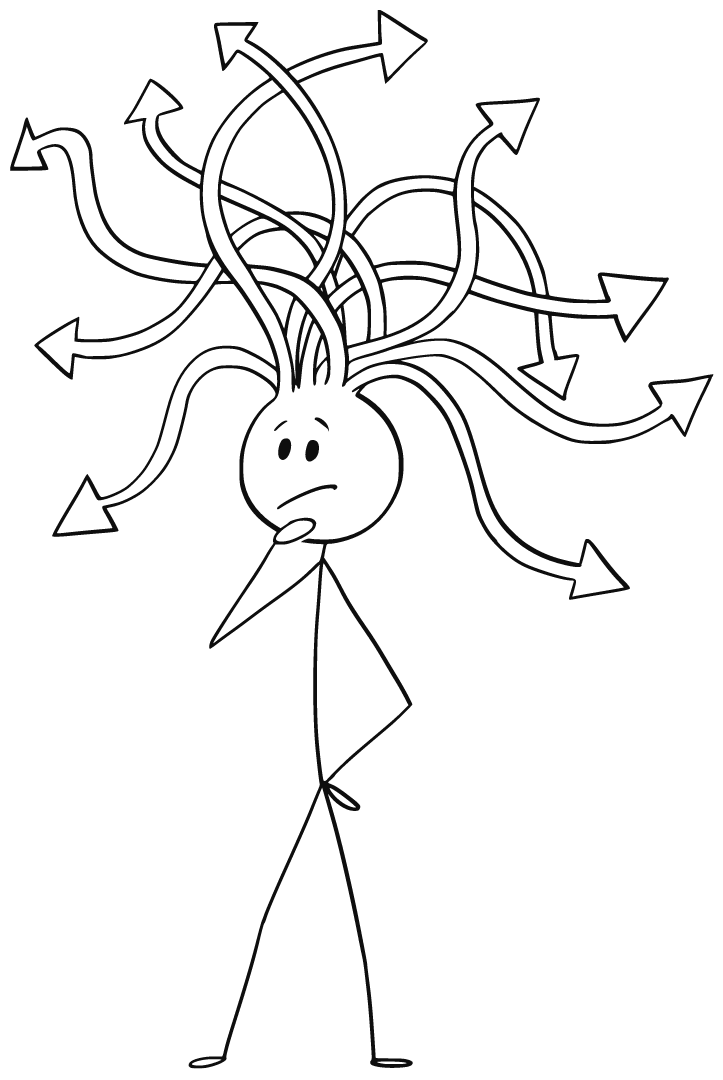 Does any of this describe your experience
implementing systems in your business?
And, worst of all, do you feel like you're navigating this road without any support or direction? Do you wish you had someone on hand to answer your ClickUp questions, review your progress, and personalize their advice to your specific business scenario?
You're ready for a change, not a lecture.
Yet, Most systems help doesn't actually help.
You and your team are already wearing many hats as it is, and turning your attention to SOPs, automations and processes can feel intimidating, especially when most "help" doesn't actually provide clarity, direction, or support in your journey.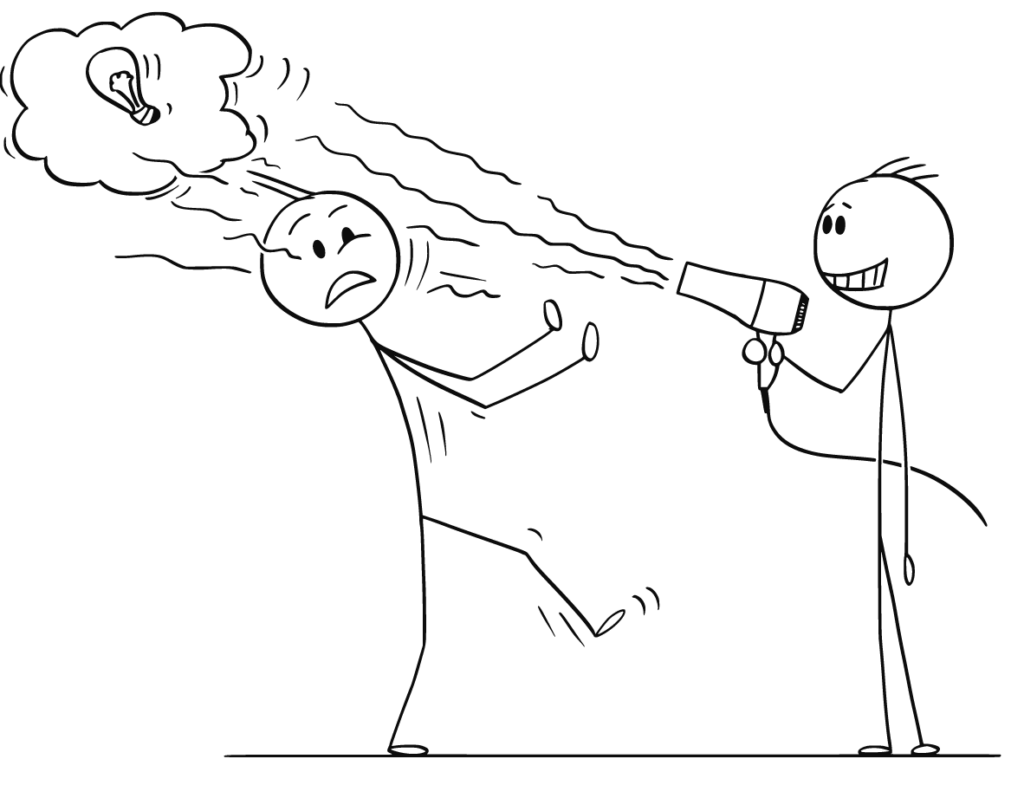 The problem with outsourcing to these quick-fix solutions is that they temporarily treat the problems but fail to equip you with the foundation of knowledge that truly helps you succeed for the months and years to come! They're band-aids that ignore the root problem…
While expert help is worth investing in...
You can't outsource learning.
Once established, your work management platform will become the hub of your entire operation. But to make full use of all those cool features, you need to know how to actually use the tool– and no one can do that "learning" for you. So, if you're going to spend time practicing how to use ClickUp…why not learn by actually building your ClickUp at the same time? That's exactly what we'll guide you through.
Finally, You Can Access a Proven Systemization Roadmap That Allows You To…
If you're ready to take ClickUp seriously, automate your to-do list, and start saving hours of grind every single week– you're in the right place.
TURN YOUR CHAOS INTO PROCESS with the ProcesSDriven MEmbership
The Ultimate Resource for Leaders Ready to Harness the Time-Saving Power of Process
The ProcessDriven Membership is helping businesses across the world to systemize their processes and transform their day-to-day operations. After working with 1200+ members, we know that lasting success with ClickUp comes down to two things:
Training That Goes Beyond SOFTWARE, and Teaches You The Power of Processes
While some done-for-you services take the initial pain out of your ClickUp setup, they don't teach you the vital skills you need to create processes and scale your business in ClickUp. 
That's why we've designed this program differently. Not only will you learn the practical tools you need to become a masterful ClickUp user, you'll also be equipped with systemization skills that will serve your business and career for years to come, regardless of which software you use!
Support and Feedback From Experts, Specific to Your BusinesS WORKFLOWS
Personalized support is the fastest way to achieve success in ClickUp. But with some ClickUp consultants charging up to $900 an hour, this can be hard to come by for small teams. 
That's why we've created a powerful group setting, for a 'consultant in your pocket' experience (without the consultant price tag). As a member, you'll receive unlimited feedback from ClickUp Experts and the ProcessDriven community, so you can overcome roadblocks and build your ClickUp even faster.
"For the first time, we feel like we have a system and tool that is working for everyone on our very diverse team (even the techno-phobes!).
The structure of the Foundations program and the ProcessDriven framework has taken the task of coordinating and systematizing our practices from something we were dreading and floundering to complete into an actionable, scaleable project. Through the bite-sized and digestible content, the incredible support of the community, and the impressive collection of resources, our team members are feeling empowered to take ownership of processes that are important to them, all while maintaining their boundaries and work-life balance. I cannot recommend ProcessDriven enough."
Ellen Y., ProcessDriven member
THE PROCESSDRIVEN MEMBERSHIP UNLOCKS
PRACTICAL TRAINING & PERSONALIZED support
The ProcessDriven Membership is the only membership of its kind to provide holistic support to ClickUp admins and power users. Inside, you won't just learn how to make the most of ClickUp as a fun, fancy tool (which it is). You'll learn how to create a more efficient and productive business, with processes that will help you do the work you love for years to come.

We believe in a "just enough" approach to eradicate information overload. We only give you the strategies and tools you actually need, so you're not overwhelmed, and you can move forward with confidence! Whether you've been trying to figure out ClickUp for a while now, or you're just starting out and wanting to avoid the painful trial and error stage, this membership will help you build a well-established foundation to support your business' growth…without the guesswork.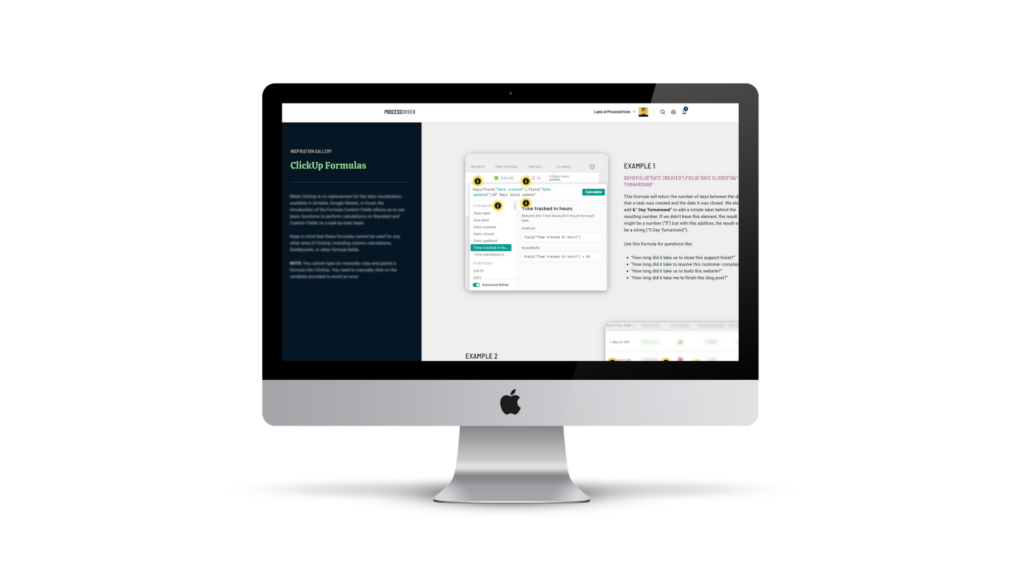 The course/community helps you figure out the "why" behind the [ClickUp] structure in a more thought-out way that you can't find on YouTube.
The feedback I get for my specific scenarios is invaluable.
What a true delight for me to have people who can really understand my thoughts and questions about all this!
Let's Review What You Get as a Member...
Through education, action, and a whole lot of personal support and feedback, you'll go from feeling scattered, to working in ClickUp with ease! It's time to stop working for your systems, and start getting your systems working for you.
The ProcessDriven Membership is Perfect if You Are a…
Our signature, step-by-step curriculum to define your processes and set up your ClickUp
ProcessDriven Foundations Course
Unlock action-oriented lessons to guide you through exactly how to structure your ClickUp around your unique business as efficiently as possible. With zero fluff and unlimited opportunities to ask questions, this course is the backbone of your membership, and is proven to eradicate the guesswork from every step of your journey.
Phase 1 | Define Your Process
If you take one look at your to-do list, you know you're too busy. But you probably don't know why (or what needs to change to fix that). That's why we start by looking at exactly what your business does - on a daily, weekly, monthly, and quarterly basis. Together, we'll define your processes, create a 'capacity defense plan' to vett the best ideas, and figure out who does what in your team.
Phase 2 | Build Your Tool
Once you've got your processes down, how do they look in ClickUp? Together, we'll share a beginner-friendly refresher to help master the basics of ClickUp - from creating tasks, to adding data, to customizing view structures, to inviting your team and more. Plus, we'll show you how to make the most of ClickUp templates for a "do it once and it's done" approach to your systems.
Phase 3 | Equip Your Process
Once you're set up, it's time to make your processes worth their weight in gold. We'll walk you through a proven, time-saving way to build SOPs, design an effective Process HQ, harness repeating and templated tasks, master the art of due dates, and so much more. Our main goal? To optimize your effectiveness, and help you and your team save time while building your systemized business.
Phase 4 | Ongoing Improvement
By this stage, you'll have a process-oriented business. But why stop there? We'll show you how to get (at least) 1% better every single day. Improve your processes with a rock-solid Masterplan for the future, keeping your team engaged and excited about using your ClickUp HQ to revolutionize their own roles and responsibilities.
Get the personalized feedback and reviews you need to fast-track your success.
Unlimited SUPPORt IN MEMBERS-ONLY FORUM
Share videos, questions, and roadblocks you're facing in our private community and receive fast feedback from Layla, community experts, and your peers. Whether it's a review of your ClickUp structure, some insight into your processes, or some inspiration for how best to utilize all ClickUp has to offer in your team, you'll always have someone to turn to when you need them.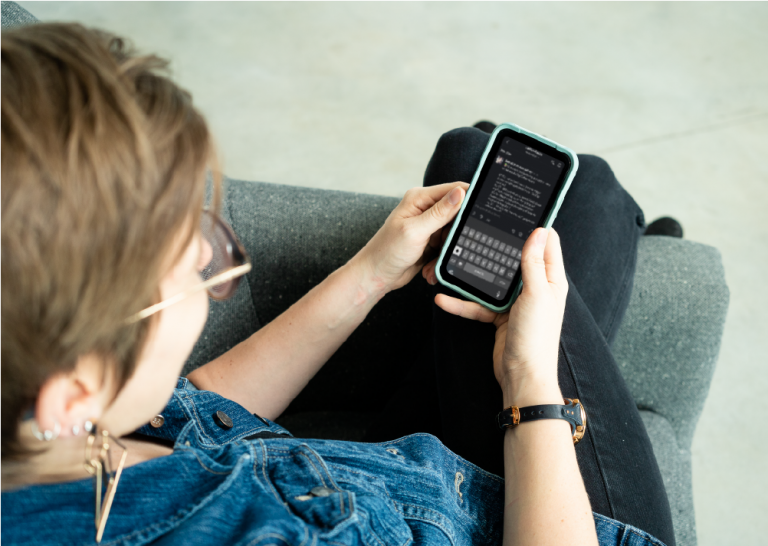 Join PROCESSDRIVEN for a weekly recap of ClickUp's latest updates and to get EXPERT ANSWERS TO YOUR QUESTIONS.
Live Weekly Review and Q&A
Struggle with traditional online courses because you learn best by asking questions? Struggling with tutorials that look and feel out-of-date the week after they're published? We know the feeling! That's why we've scheduled these live, weekly sessions where we will recap ClickUp Release Notes from the past week, so you won't miss a beat. 
You'll also be invited to share any questions you have about processes, ClickUp, or the course and get the answers you need to move forward with confidence. Join live or watch any of the 955+ Q&As available inside the timestamped replay library.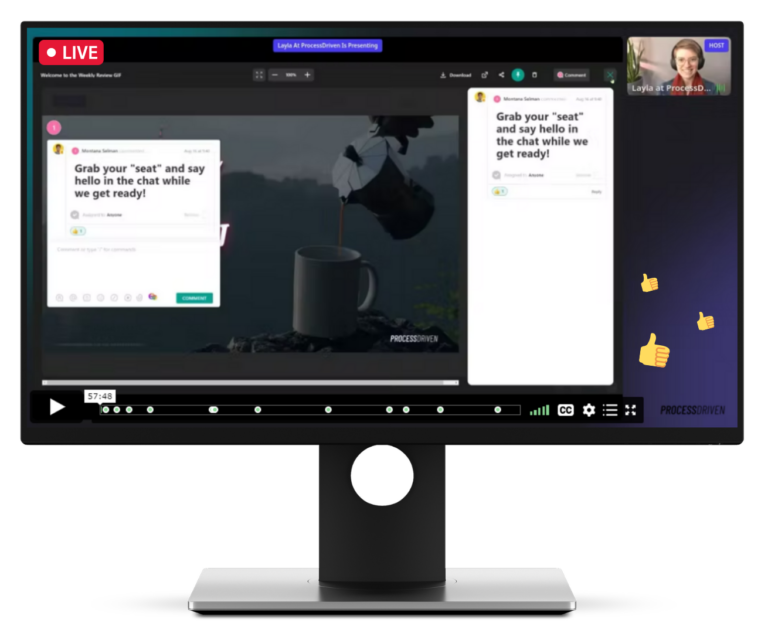 "Finally I understand my own business!
I've never put any thought into most aspects of what we do/why. With the Process Org Chart, I could map out our tasks, routines and processes and started documenting our business!"
Philipp O. Stracker, CEO at Divimode
KNOCK HOURS OFF YOUR LEARNING CURVE IN CLICKUP WITH PROVEN RESOURCES.
A Vault of 50+ Proven Templates
Templates can be a powerful way to speed up the ClickUp implementation process! Unlock our growing library of Space, Folder, List, Task and Doc templates available exclusively to our members. With one click, you can import entire workspaces in ClickUp, and simply customize them to your needs (we'll show you how!), so you can start reaping the systemization benefits sooner!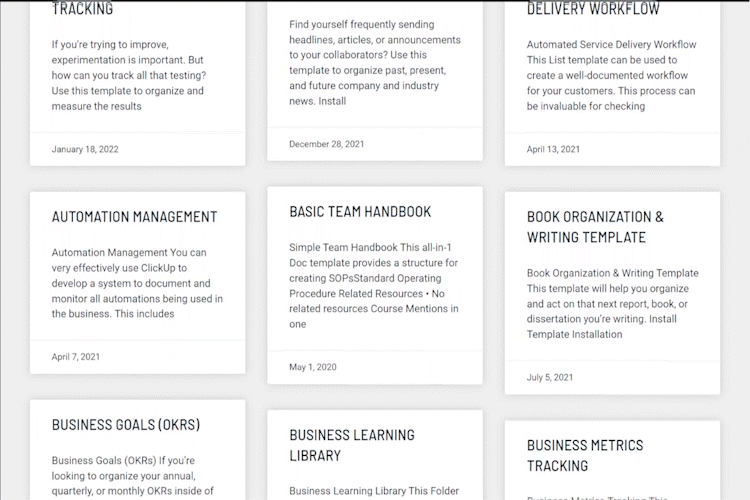 Exclusive Monthly Small Group Sessions
with an intimate, interactive group to share the highs, lows, and challenges of systemizing your business.
Your processes and ClickUp require regular maintenance and troubleshooting to keep them aligned with your company's team and goals. That's why you're invited to meet with fellow members to overcome any roadblocks standing in your way, and move forward confidently. Each live event is recorded for easy access in multiple time zones, so you can make the most of the powerful content even if you are unable to attend live.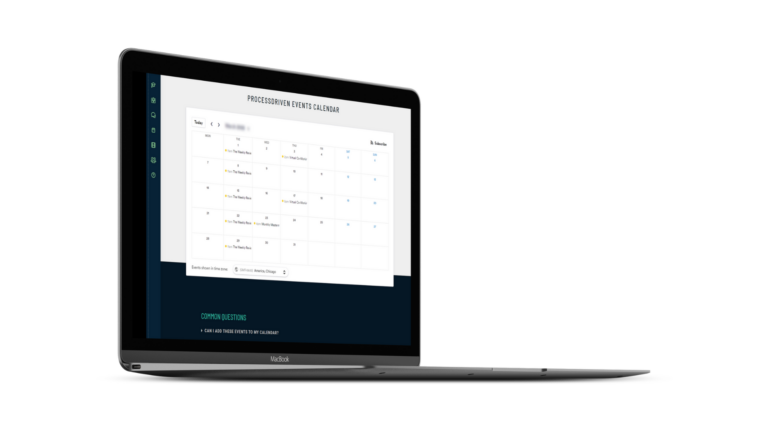 NOT TO MENTION BONUS PERKS LIKE:
SEARCHABLE LIBRARY OF 955+ FAQs
Skip scrolling through endless pages of Google searches, and access our extensive library of ClickUp and process answers. This hub contains every single question we've ever answered inside our Weekly Reviews, every YouTube video we've ever made, and every piece of content in the course. Find answers to your questions, all searchable through transcripts and annotations. 
Process Org Chart™ Feedback
We've developed our own secret weapon for systemizing businesses: The Process Org Chart™. With this tool, you can define exactly what your business does, and build ClickUp around your unique workflows. As a member, you'll learn how to create your own chart, unlock our gallery of examples for inspiration, and receive personalized feedback on each draft you create! 
DECISION TREES TO AVOID COMMON MISTAKES
Access dozens of checklists & decision trees that breakdown the logic behind setting up your ClickUp account. Find the answers to questions such as, "Should this project be a List or a Task in ClickUp?" or "Should my assistant be a Member or a Guest?" and so many more. We regularly update and expand these resources for your easy reference.
ProcessDriven HQ™ All-in-One TemplatE
Capture all your business' knowledge in one spot using our signature Process HQ™ Template – from your values, to your team, to your tools and more. Swipe this customizable master template used by hundreds of our clients (and us!), and watch it become the foundation of your entire system. 
Want to Know The Real Key to Success Inside the ProcessDriven Membership?
The Community You'll be a Part of From the Moment You Join
Have you ever felt like the only operations and systems minded person on your team? Or perhaps you've just felt overwhelmed by where to start, and wondered how to bring the fundamentals to life in your business? If so, you're not alone. That's why the real gold of the ProcessDriven Membership isn't just the world-class content and resources… it's the hands-on advice and support you'll have access to inside.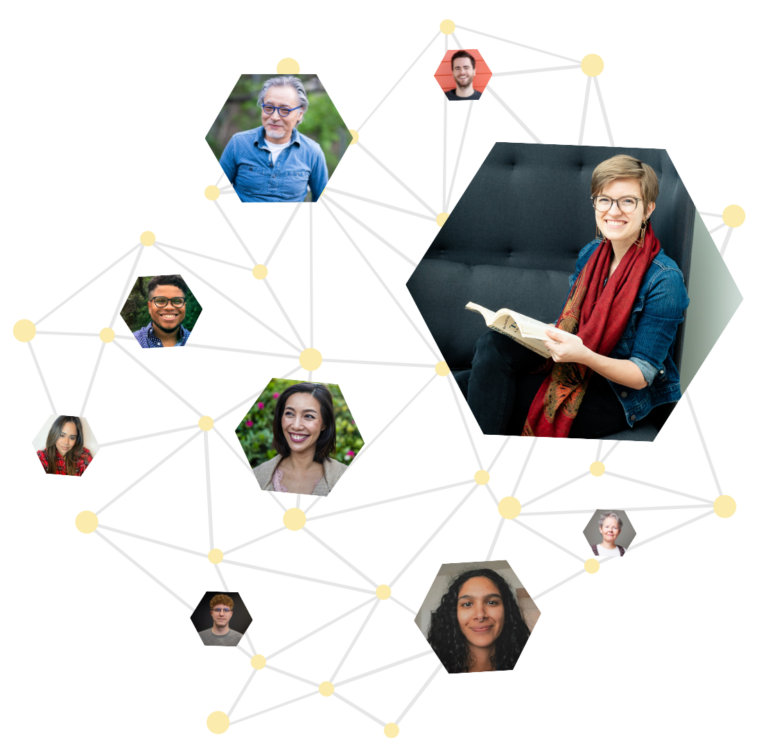 As a member, you'll be able to:
I have found the membership so helpful. I couldn't agree more that you cannot outsource your learning. There is a lot to take in, but I am chipping away at it and refining my internal processes for the win!
The membership platform has so far been a great experience for me. 
After using ClickUp for a few years, I have gotten more out of our business account in the last week with my ProcessDriven Membership than I could have imagined. I cannot thank you enough for what I'm learning and how I'll be able to apply it with my team.
Bonnie M., Associate Dean
I've been able to organize what I see in my head into an actual workflow! Plus it's opened up new possibilities to how else I can organize myself. 
Ranya D., Founder & Owner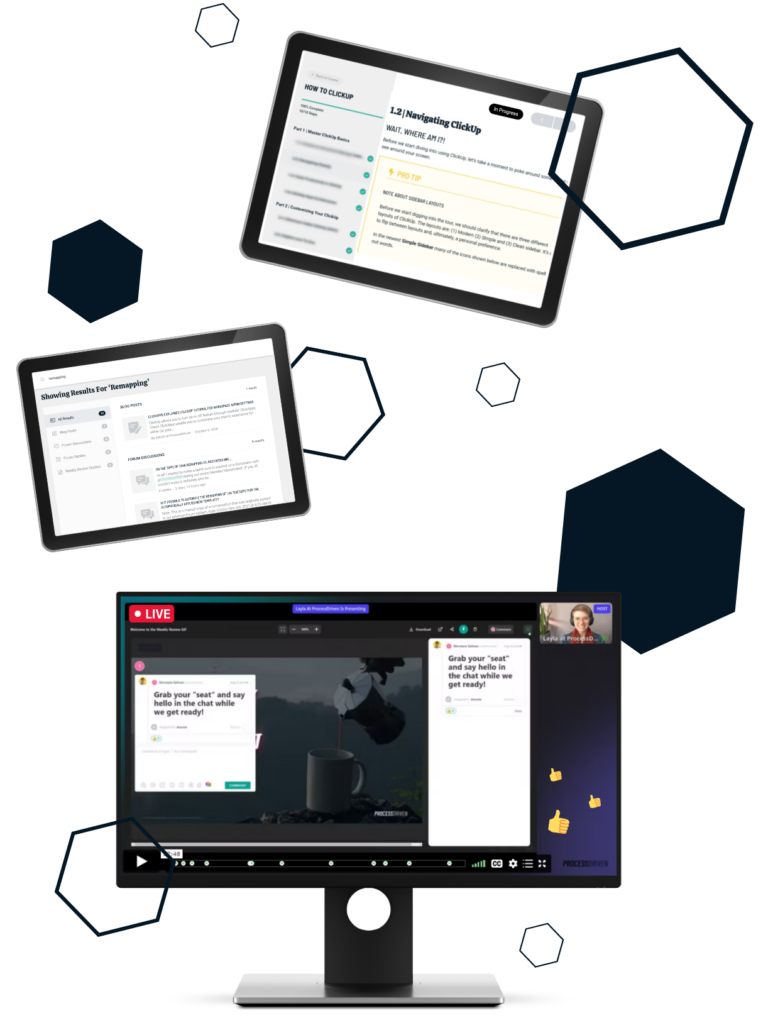 "[I] considered myself an 'expert' in organizational design & systems. But I'm learning so much from you and how to bring it all together…
And specifically how to map the processes to the organization (and vice versa!) I wish I could go back [into the military] armed with this new knowledge. But at least it's providing value to my own business and other organizations that I work with. Thank you!"
CEO & Vetted ClickUp Consultant at ProcessDriven
As a Process & ClickUp Consultant, I've spent years working with small teams who have struggled to get what's in their head into ClickUp — so if you feel the same, you're not alone. After hundreds of client engagements, I've realized two powerful truths about mastering ClickUp:
Your ClickUp is only as strong as your processes, which is why done-for-you setups will often fail (even though no one wants to admit it).
There's no replacement for having a human anticipate your questions and help you find your way when you get stuck.
As our YouTube channel grew, the demand for ClickUp support was more than I could handle as a one-on-one service provider. That's why, in 2020, I decided to share everything I know in one action-oriented membership.
Just like the 1-on-1 service it is based on, our membership helps businesses build strong processes (first!) while staying committed to providing as-you-need-it human support to ensure you never get stuck or discouraged. This isn't some passive product — I'm in the membership every single day, and I'm eager to help guide you through your ClickUp journey now, too.
FYI: The ProcessDriven Membership Isn't Right for You if You Are…
Are You Ready to Build the Systems You Need…
CUSTOMIZED FOR HOW YOU DEFINE SUCCESS?
This is your official invitation to stop being a bottleneck in your business, and turn chaos into processes inside the ProcessDriven Membership. Access world-class resources, expert support, and a like-minded group of peers on the same journey as you, so you can build a powerful HQ and fast-track your business' success.
Join today, and let's take a massive step towards systemizing your operations, and taking control of your business with ClickUp together…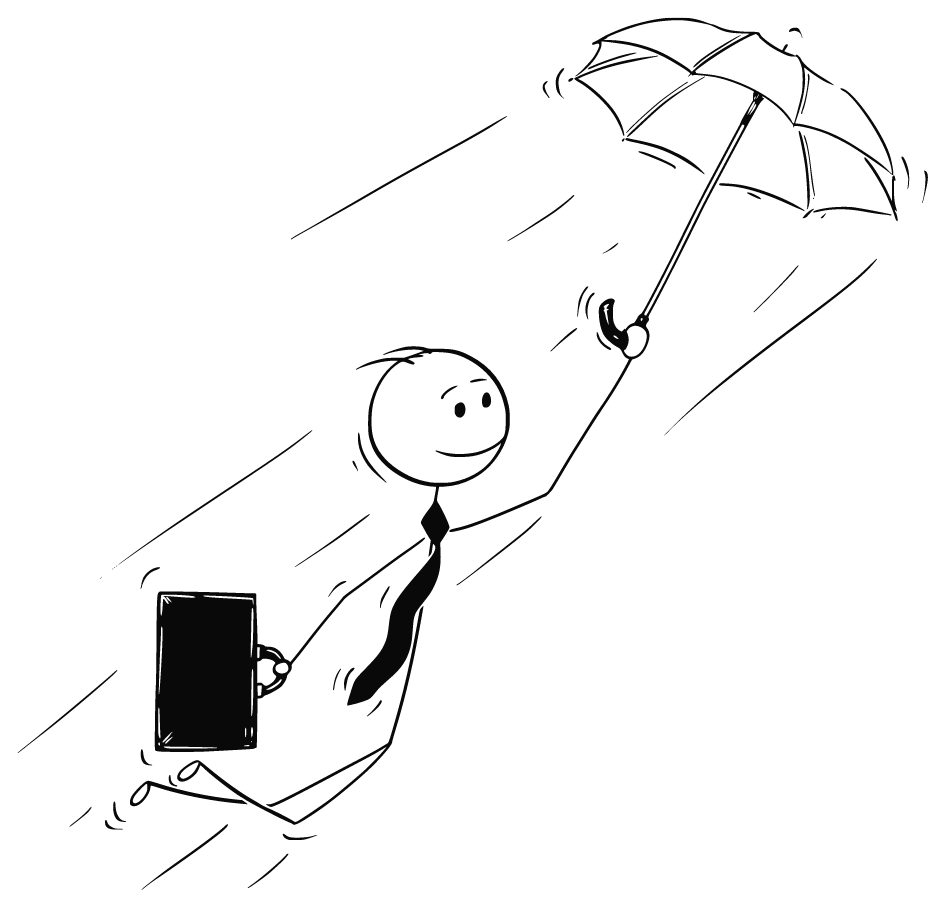 "The PERSONAL feedback alone is worth its weight in gold. It's like having direct access to the best parts of everything – not JUST ClickUp but processes and systems.
The depth of knowledge, care and feedback that you get is just unbelievable…Not to mention the entire ProcessDriven team down to Norman and Alpha are the friendliest bunch on the interwebs. I honestly feel like I have made friends (who aren't Judgy McJudgepants if you're a little OCD)… And that's not even mentioning the course… This entire course/system/community is the best investment you will ever make. Hands down. It should be twice the price — and knowing what I do now, I can honestly say I would pay it. Because they/it are worth it."
Abi Paine, Owner & Virtual Assistant at Abi-lities Business Solutions
Frequently Asked Questions