Want to create a Plant Database to organize your plant collection? We're here to take you from plain ole' "plant collector" to "Plant WHISPERER ?✨" with a simple and easy Plant Database you can set up right inside your personal ClickUpUse our ClickUp affiliate link! Workspace.
We've got our plant names, soil preferences, water preferences and schedule, our humidity preferences – and so much more! – right inside an easy to create Plant Database.
If you're a plant-lover, you know how important – and sometimes hard! – it is to take great care of all of your plant babies.
Some need certain watering schedules, some need different lighting, some need different fertilizers… as wonderful as it is to have plants inside your home and out, they can be quite needy!
Thankfully, ClickUp can help make plant care so much easier.
We'll show you how to create a personalized houseplant database right inside your ClickUp account that can help keep a handle on all things home and garden!
Building your Plant Database in ClickUp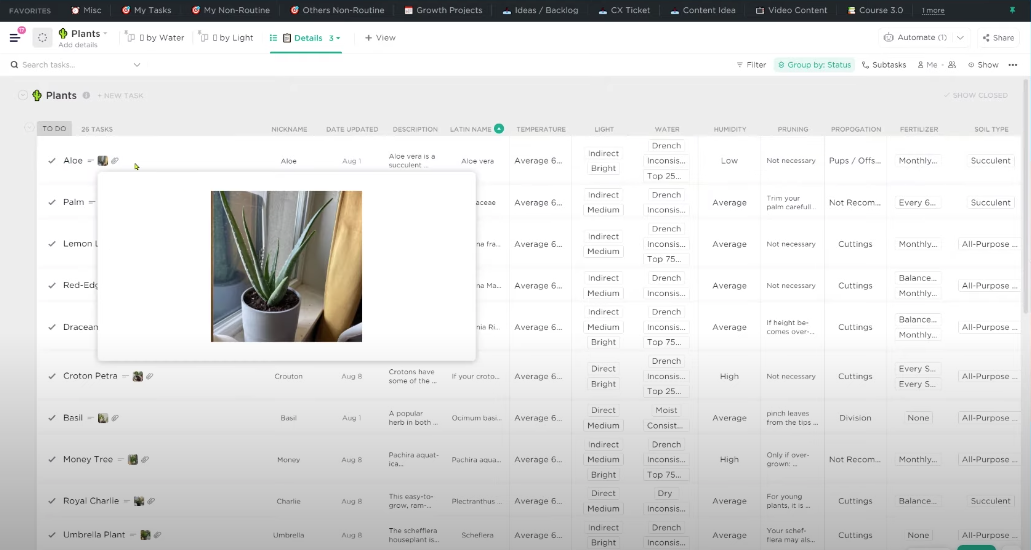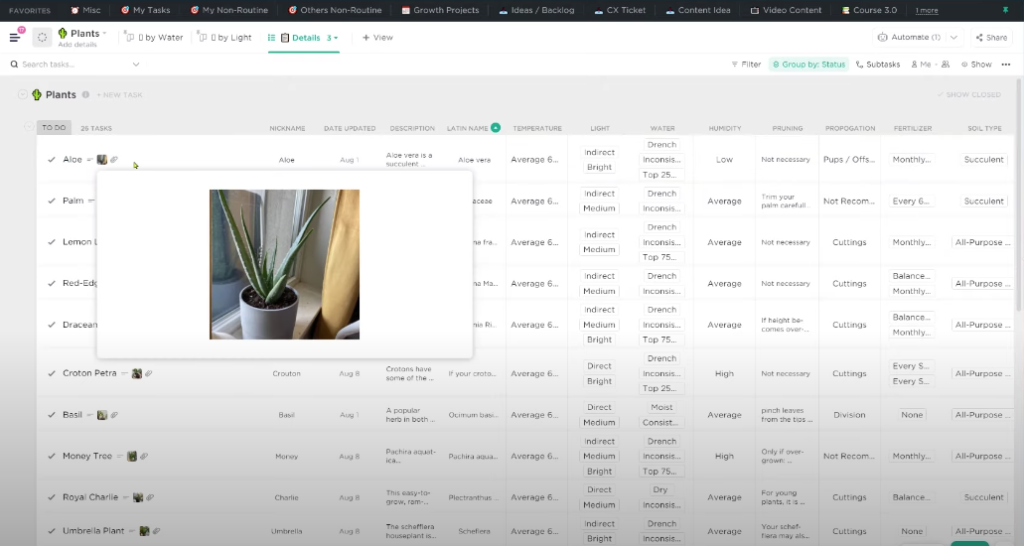 ClickUp is great for all things to do but one of its most underutilized features is its ability to be used as a place to hold data.
While ClickUp is not a database system, by using a "Task" in ClickUp as a placeholder for a piece of information instead of a specific, actual task, you can open the software up to so much more than just team and project management.
Here at ProcessDriven, we use ClickUp as a database for our Automations, our Team Directory, our SOPs, and so much more!
In this ClickUp for Personal Use example, we're using each individual Task in our Plant List as each of our individual plants.
Inside of each task, we started by creating Custom Fields that include information about each plant in our Plant Database, such as:
Each plants' prefered temperature, humidity and lighting
Individual watering schedules
Pruning and propogation details
Each plants' fertilizer and soil types
If it's edible or has medicinal value
Its planter size
And how long you've owned it
While we don't tend to use Due Dates when subbing a "Task" for just a placeholder of information, in this instance, it could be necessary. If you're looking to have reminders of, say, each plant's watering scheduling – you could use Subtasks inside each plant "Task" with a Recurring Due Date.
Want to know more about Custom Fields in ClickUp? Find out more here. Need help setting up a Recurring Due Date in ClickUp? We've got you covered here.
Using Views to make your Plant Database Come to Life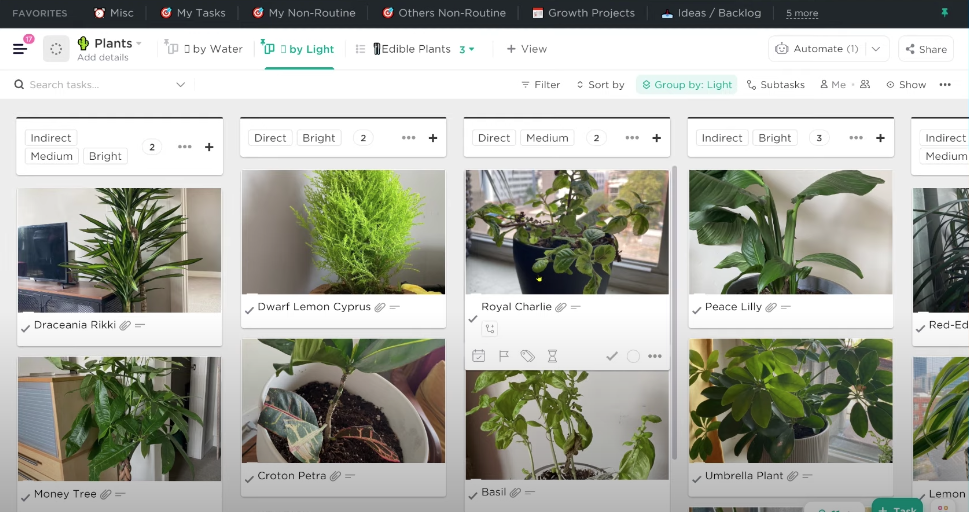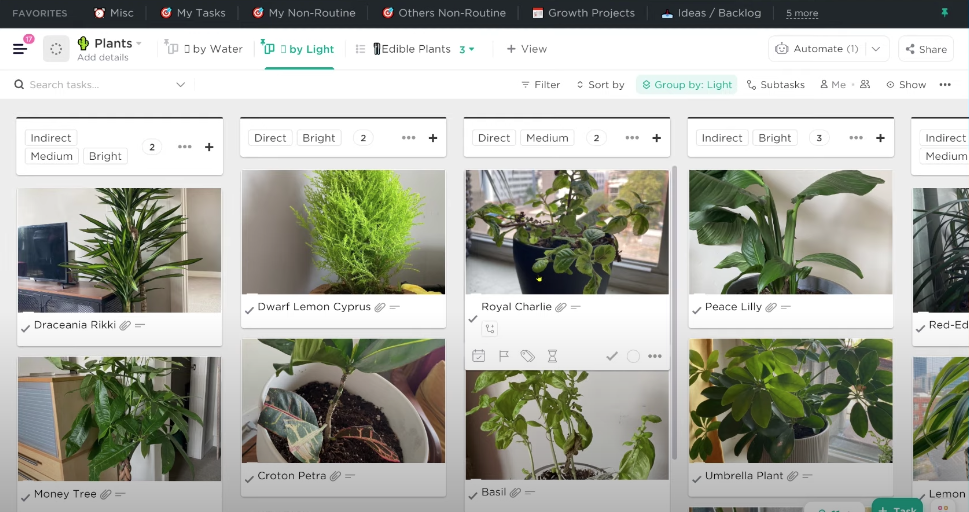 Once you fill in all of your data, you can create multiple views to organize in a way that works for you!
For example, you could immediately see which plants need a certain type of lighting, so you can arrange them in your house accordingly.
Depending on the types of plants you have or your routines, you could break it up by any of the lists, labels, or status' you might need.
Layla breaks down how to create views starting at 2:26
Creating a Gallery View in ClickUp by "Pinning" Pictures
With Gallery View, you can create a quick at-a-glance look at all of your plants. This gives you the ability to see all of your plants (with pictures!) in a single View.
Just attach the desired plant image to the Task, and then at the bottom where attachments are, you simply hit the little pushpin. This "pins" it to the card, making it the card's top mage.
You could also add banners or comments to your plant tasks to keep track of your updates with each specific plant. You can make note of when you last repotted it or moved it to another window for better lighting, the possibilities here are endless!
If you're feeling really ~fancy~, you could import a directory of information and then use relationships to connect it across your database so you don't have to type all that information manually.
And that's it! Now you can enjoy your plants and help them thrive, with a personalized houseplant database, right inside ClickUp.
Layla shows you how to make gallery views starting at 3:30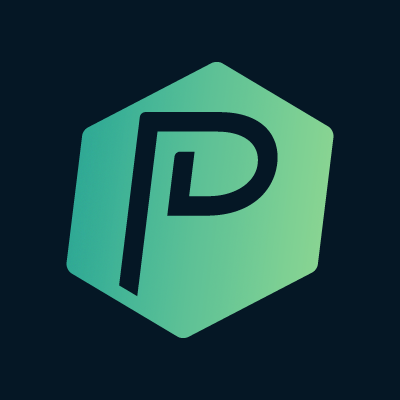 ProcessDriven helps small teams turn chaos into process. The ProcessDriven Approach™️ combines software expertise with practical process-first strategies that have helped 1,600+ teams build a scalable foundation of business systems.