Meetings are an essential tool for influencing company culture and team relationships. Some factors that influence the effectiveness of team meetings include:
What you include in the agenda
Who's there and who's not
Organizational structure and format
Rather than looking at meetings as part of daily operations, it's vital to see them as a valuable tool for business strategy and support for your overall internal and external objectives. Perhaps most importantly, meetings should bolster your culture and team building in a way that aligns with your company-wide goals and brand.
Meetings are especially valuable for hybrid or fully remote teams as they replace the casual interactions and cohesion that happen naturally in a shared office setting.
In this video, CEO Layla Pomper talks about last year's structure and cadence of ProcessDriven's team meetings, the good and bad, and shares what improvements she's made for more productive and effective meetings in 2023.
2022: Team Meetings Past (timestamp 02:00)
Last year, ProcessDriven's meeting schedule looked something like this:
All-Team: a mandatory weekly meeting for the whole team.
1:1s: a weekly meeting for each manager and direct report.
Role Call: a monthly performance review attended by Layla, a manager, and a direct report.
Quarterly Review: a quarterly state-of-the-union address by Layla on company progress, plans, and goals.
Lunch & Learn: an optional monthly virtual lunch including a presentation or guest speaker.
Internal Consulting: optional monthly internal business process consultation.
The Team Meeting Good (timestamp 05:30)
The best part of the above meeting schedule was the 1:1s which we found instrumental in team coaching and fostering growth. They were tailored to each person, and with that individual attention, employees flourished. If we had to choose one meeting from the above schedule to keep and discard all the rest, the 1:1s would be the ones we'd pick as the most positive and effective.
The Team Meeting Bad (timestamp 07:00)
In the above schedule, the All-Team meetings were the worst of the bunch, having evolved into long, drawn-out status-report readings that people dreaded. After filling out and adding notes to the agenda, the meeting basically consisted of reading those prepared updates. Talk about a snoozefest!
Role Calls also became a bit much and proved redundant when we already met weekly. The format felt too formal and made employees a bit uncomfortable, like having an official performance review each month. It wasn't in line with our friendlier, more casual company culture, and including a supervisor prevented employees from providing candid feedback and addressing management concerns.
The Quarterly Review was more of a strategy monologue that people weren't getting much out of. It wasn't interactive, nor did it help people learn and grow.
Pro tip: If a meeting consists solely of employees listening to a speaker, another format, like a video, may be better for conveying the information.
But the most significant catalyst for change was that the part-time and quarter-time employees spent a high percentage of their engagement time in meetings about work they weren't even responsible for, which was an inefficient use of their time.
After looking in-depth at employee feedback, productivity, and time tracking, Layla made some changes for 2023.
2023: Team Meetings Present (timestamp 09:50)
You can see these schedule variations highlighted in yellow below, but here's a recap of some of the most significant changes: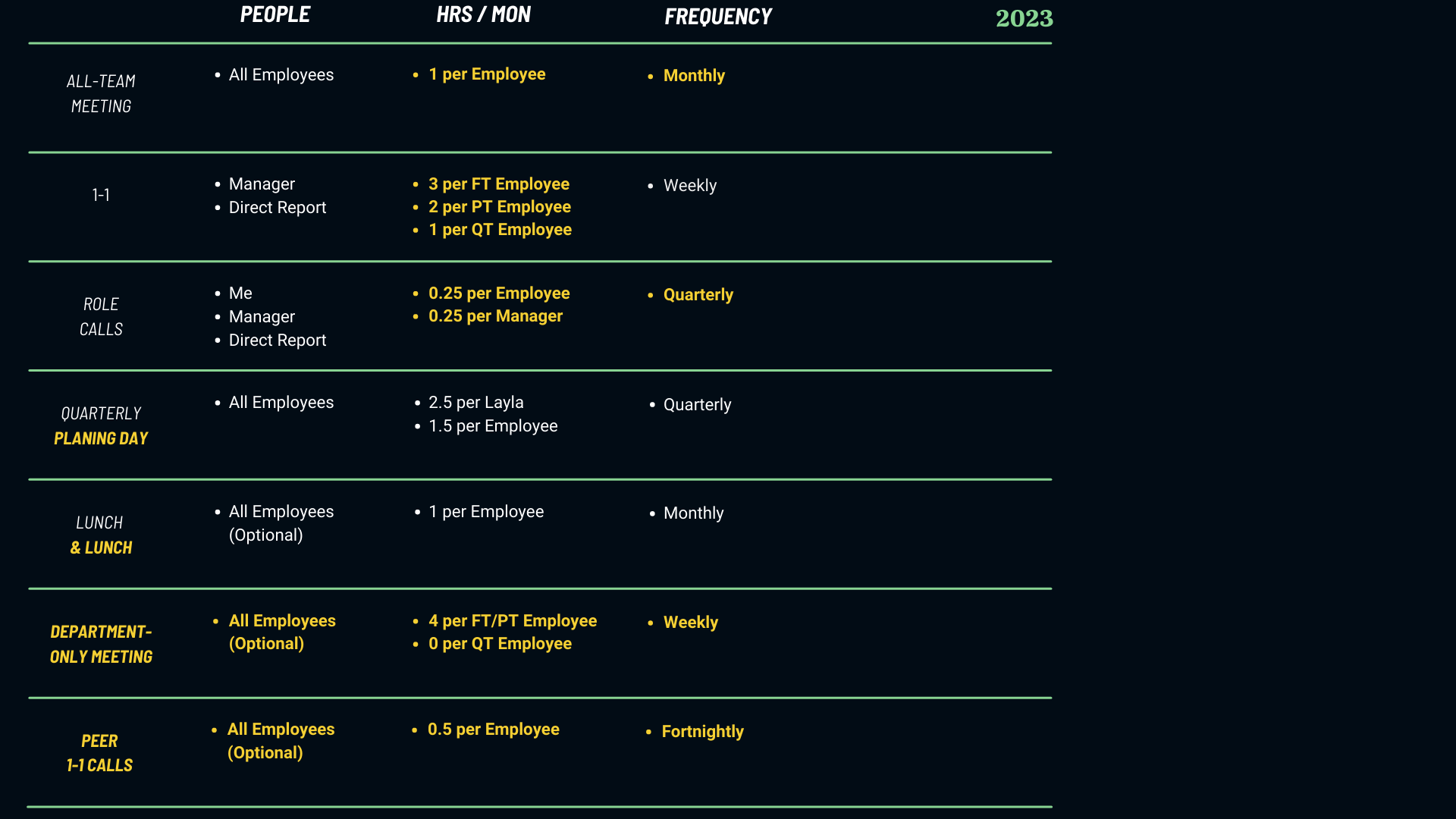 The All-Team went from weekly to monthly with less time spent per employee. Layla implemented a "no status report" rule, and instead, time is spent analyzing metrics, celebrating wins, and talking. Rather than quiet listening time, these meetings have shifted to 90% interactive discussion.
1:1s are less frequent and shorter. The amount of time depends on the employee status of full-time, part-time, or quarter-time.
Role Calls went from monthly to quarterly, with only Layla and the direct report attending, and they are shorter in duration.
The Quarterly Review is now a planning day with an interactive workshop.
Lunch and Learn transitioned to Lunch and… Lunch. Rather than an education session, employees are encouraged to join a virtual lunch to connect as a team, catch up, and build relationships between members who might not work together much, if at all.
Internal Consulting has been replaced with weekly department team meetings to discuss the department-specific operations and functions relevant to the attendees' roles.
We added Peer 1:1s so team members can get together, chat, and learn what each other is working on. These meetings provide increased communication and relationship-building opportunities to prevent miscommunication and reduce duplicate work. Team members value this time because they feel more connected to others in our remote environment.
Summary
In short, meetings now focus on conversations and not status reports. They went from listening (and opportunities to tune out and multitask) to interactive and highly participatory. Part- and quarter-time employees who aren't affected by the meeting content are exempt from attending long sessions that don't impact their workflow.
There are actually more niche and ad-hoc meetings, but they are shorter and focused on specific teams and goals, making them more effective and productive.
2024: Team Meeting Future (timestamp 16:35)
Do you have a team meeting cadence or structure that works (or doesn't)? Join the discussion and let us know how often you meet, how long your meetings are, and what you love or hate about them in the comment section.
Be sure to like this video and subscribe to our YouTube channel, especially if you'd like an update on what changes we'll make to this meeting cadence for 2024!
Until next time, enjoy the process!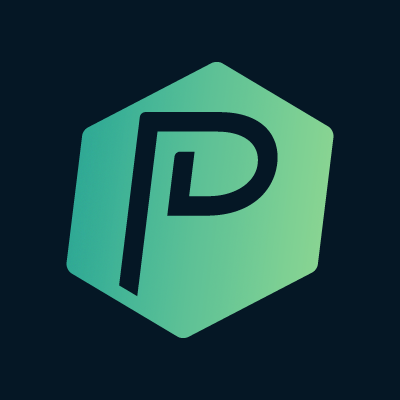 ProcessDriven helps small teams turn chaos into process. The ProcessDriven Approach™️ combines software expertise with practical process-first strategies that have helped 1,600+ teams build a scalable foundation of business systems.