In this post, we're going over a Standard Operating Procedure checklist with 5 SOP examples for product-based businesses – so you can start small and build your SOP catalog quickly and efficiently!  
Looking to start documenting your processes with SOPs for your product-based business and don't know where to start?
🆓 Check out our FREE Blueprint Strategy Webinar!
🤔 Wondering what an SOP is? Check out this post.
⏩ Want to write your SOPs faster? Learn how here.
You're creating SOPs, but where do you start?
When you're first getting started systemizing your business and documenting your processes, the top question is always, "Where do I start?"
One key place we recommend starting is to look at industry-specific or business-model-specific SOPs. This will give you a guide on where to begin and how to put everything together.
Today, we're going to be focusing on product businesses (businesses that design something once and sell it many times) and how they can get started on creating their own SOPs.
First, we're going to focus on tasks and processes that are:
Repetitive
Important
Delegateable
Even if you're a solopreneur, these are the best places to start because, at some point, you're likely to hire help – and you'll also be glad to have them in case of an emergency.
SOP Example #1: How to Take Inventory
Keeping track and managing your inventory would be a great place to start creating your first SOP.
Things to go in here may include:
Surveying your warehouse
Managing your accounting software
The software you're using to manage your inventory
You'll want to write down a simple process to follow so anyone could theoretically jump in and get it done.
SOP Example #2: How to Deliver (or Ship)
The second place we recommend you start is to document your shipping or delivering process for customers.
SOP examples here could include:
How you wrap things to sell at market
Boxing and shipping processes
How to get customers onto your course platform manually
Need some guidance creating SOPs for your team? Download our 109 Time-Saving SOPs Every Team Needs Checklist!
SOP EXAMPLES for "Emergencies" so You're Ready BEFORE They Happen
This one isn't as fun as the others, but you will be so glad you have these SOPs when you need them most.
Instead of having your whole team standing around shocked and unsure of what to do, having these SOPs readily available will help everyone will feel much more at ease when there is a plan in place to follow when things go awry.
Let's go through some examples:
SOP Example #3: How to Cancel an Order
One of the most common "emergencies" you can prepare for in a product-based business is the process for how to cancel an order.
This way, anyone on your team (with access to the tools you use) could handle this process. This SOP is helpful if you're out of town or handling something more important in your business, you need someone to be able to handle this to keep your process flowing – and keep your customers happy!
SOP Example #4: How to Process a Refund
Whether it's automatic or manual, you'll want to make sure you have the step-by-step process for processing refunds.
When your first refund happens, it can be quite upsetting! You don't know what to do, you're upset that the customer isn't satisfied – but having this refund SOP written beforehand (because, let's be honest, refunds in the product space are inevitable) can help to ease that initial jolt and have you handling it like a pro.
Refunds are just the name of the game in this business, so don't take it to heart, but be ready for them to happen.
Some things these SOP examples could include:
What channel should the refund be requested through
How you actually process the refund
How to let the customer know that the refund is processed (this one's important!)
Templates and scripts in this workflow so you don't need to rewrite them from scratch
SOP Example #5: How to Lookup Existing Customers
This one is commonly overlooked within businesses, and trust us, you don't want to wait too long to create this one! You might already have a fancy CRM to take care of this process and keep track of your customers, but if you don't, it's time to get the details down on this process.
Someone on your team might need to look up who is a current customer and who is not. It doesn't need to be complex, but you need to have a way to double-check who you're talking to. That way, your team can be brought up to speed on who they are and how your business has helped them previously.
Bonus Tip: Document your Automations!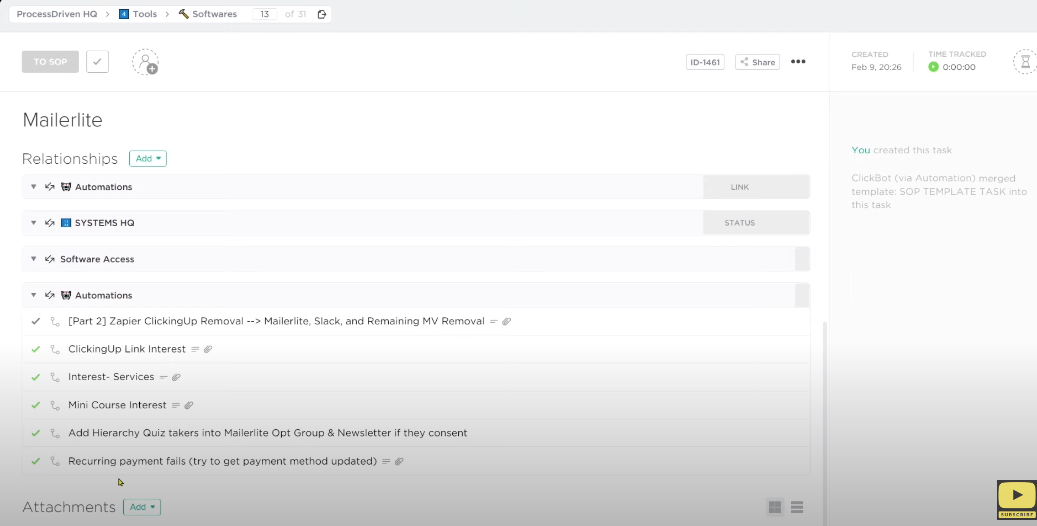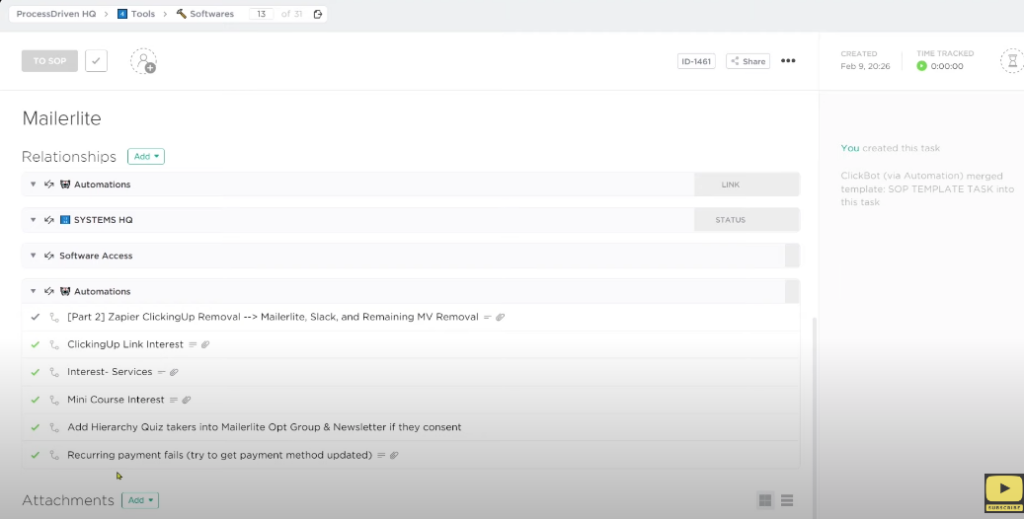 While you're busy creating automations for your business, do not forget to document them along the way. You might end up with hundreds or thousands of automations. Automations are supposed to make things out of sight, out of mind. But if you don't have a running log of what automations are set up where and set to fire when one broken automation could have you searching your head for way longer than it should
Start by creating an entire database of your automations:
Who created them
What they do
What software you're using to make it happen
Any other relevant information
If one of your automations starts to fall apart or is having an issue, you need to immediately know the automation, where it is, and how to fix it.
If you want to learn more about automation databases, we have a whole post on how to just that right inside ClickUpUse our ClickUp affiliate link!: here.
Need some guidance creating SOPs for your team? Download our 109 Time-Saving SOPs Every Team Needs Checklist!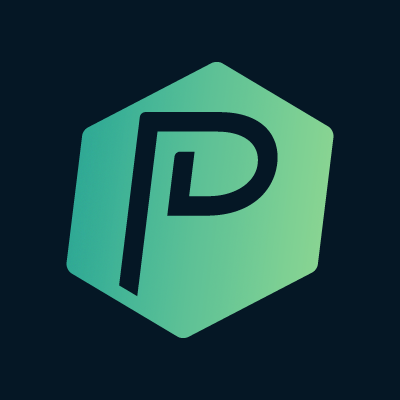 ProcessDriven helps small teams turn chaos into process. The ProcessDriven Approach™️ combines software expertise with practical process-first strategies that have helped 1,600+ teams build a scalable foundation of business systems.