THE #1 SmartSuite TRAINING PROGRAM FOR PROFESSIONALS TO
Learn SmartSuite essentials
in less than 1 day.
Unlock the action-oriented mini course and expert support to build SmartSuite confidence in hours, not months.
BY CENTRALIZING TASKS AND COLLABORATION,
SMARTSUITE CAN TRANSFORM YOUR DAILY WORK.
SmartSuite has combined the power of a database with the features of a task manager to disrupt the work management software space. Set up properly, SmartSuite becomes the one centralized spot to see everything you need to do, think about, or discuss as it communicates with your other tools.
Sounds amazing, doesn't it?
 Yet, I'm guessing your SmartSuite journey hasn't been so simple…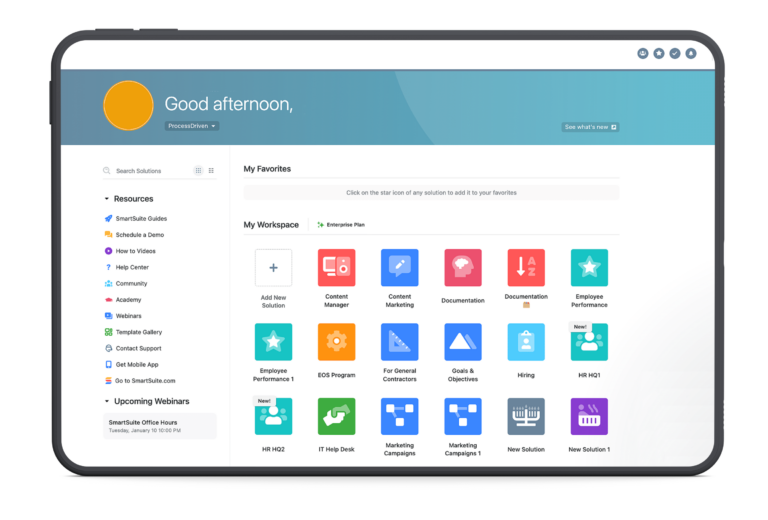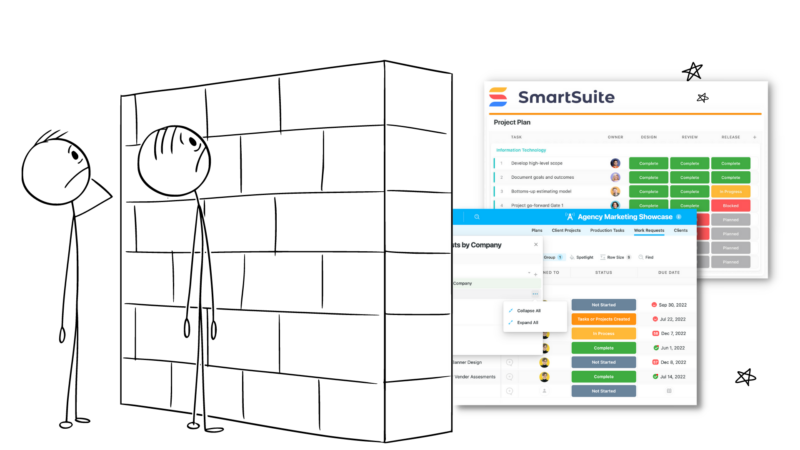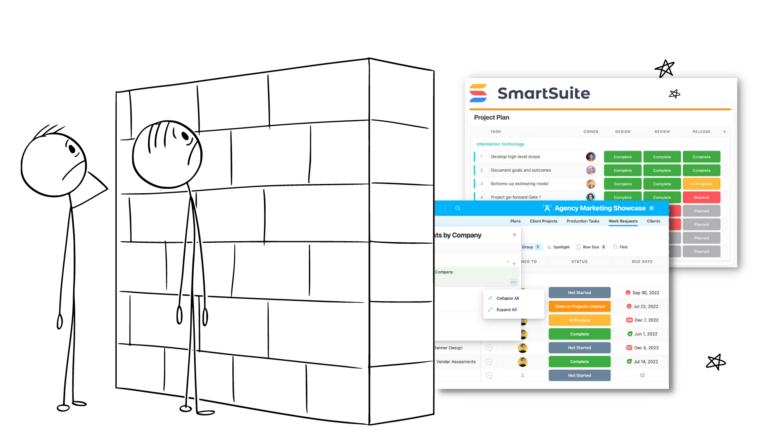 REGARDLESS OF ALL THE SHINY FEATURES THAT SMARTSUITE HAS...
TO GET RESULTS, YOU NEED TO KNOW HOW TO USE SMARTSUITE.
Here's a hard truth: SmartSuite is only as powerful as your and your collaborators' ability to use SmartSuite. Perhaps you or your team have struggled with the practical side of navigating SmartSuite or maybe it's the fundamentals of systems and processes that are holding you back… either way, you're finding yourself stuck on the wrong end of the SmartSuite learning curve.
YOU WANT TO BUILD SMARTSUITE CONFIDENCE FASTER SO YOU CAN:
YOU KNOW YOU NEED TO LEARN SMARTSUITE QUICKLY AND...
YOU CAN'T OUTSOURCE LEARNING.
If you're like most SmartSuite users, you've considered (or tried) learning SmartSuite fundamentals the hard way:
You've found yourself drowning in endless information that doesn't really answer the core question, "How should we actually use SmartSuite each day?"


That's why we created How to SmartSuite.
LET'S REVIEW HOW IT WORKS IN JUST 4 MINUTES...
How to SmartSuite is the online course + expert training designed to help busy people increase their confidence and productivity using SmartSuite in less than one day.
…or keep scrolling to learn all the juicy details!
How to SmartSuite Online Course
LEARN SMARTSUITE WITH ACTION-ORIENTED LESSONS INSIDE OUR CONSISTENTLY-UPDATED ONLINE COURSE
We believe mastering just 20% of SmartSuite's features can unlock 80% of SmartSuite's value. And that's a good thing, because your time is too valuable to spend mastering every SmartSuite setting! This course guides you step-by-step through the SmartSuite features you really need.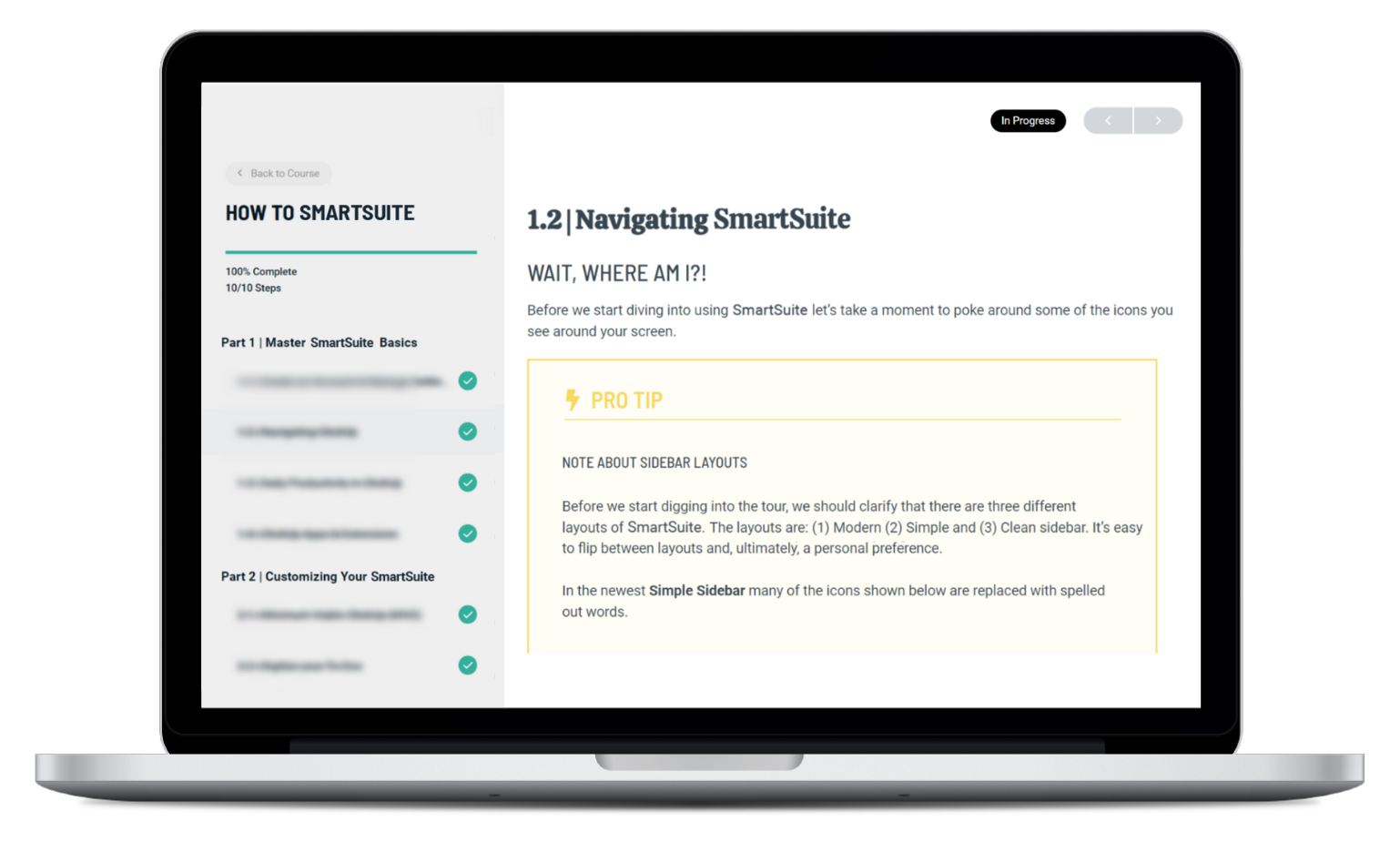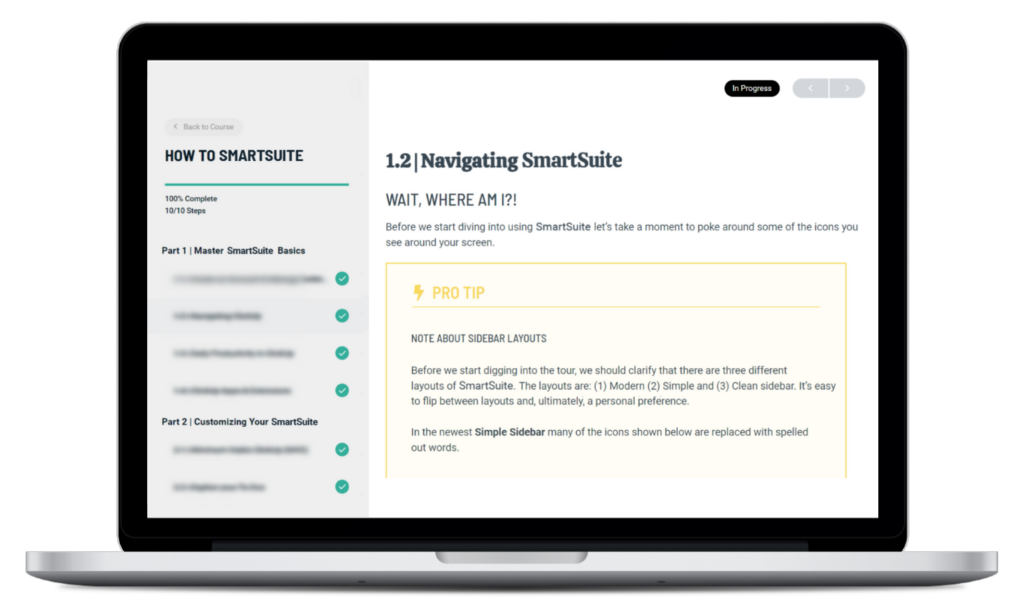 plus you'll get support along the way through:
HOW TO SMARTSUITE UNLOCKS ONE MONTH OF ACCESS TO OUR RAPID REVIEW LIVESTREAMS
Every month, we recap SmartSuite's Product Updates and answer questions in our signature training program, ProcessDriven Foundations™️. With How to SmartSuite, you'll get 4 weeks of access to timestamped recordings of previous Rapid Review livestreams so you can move forward with confidence!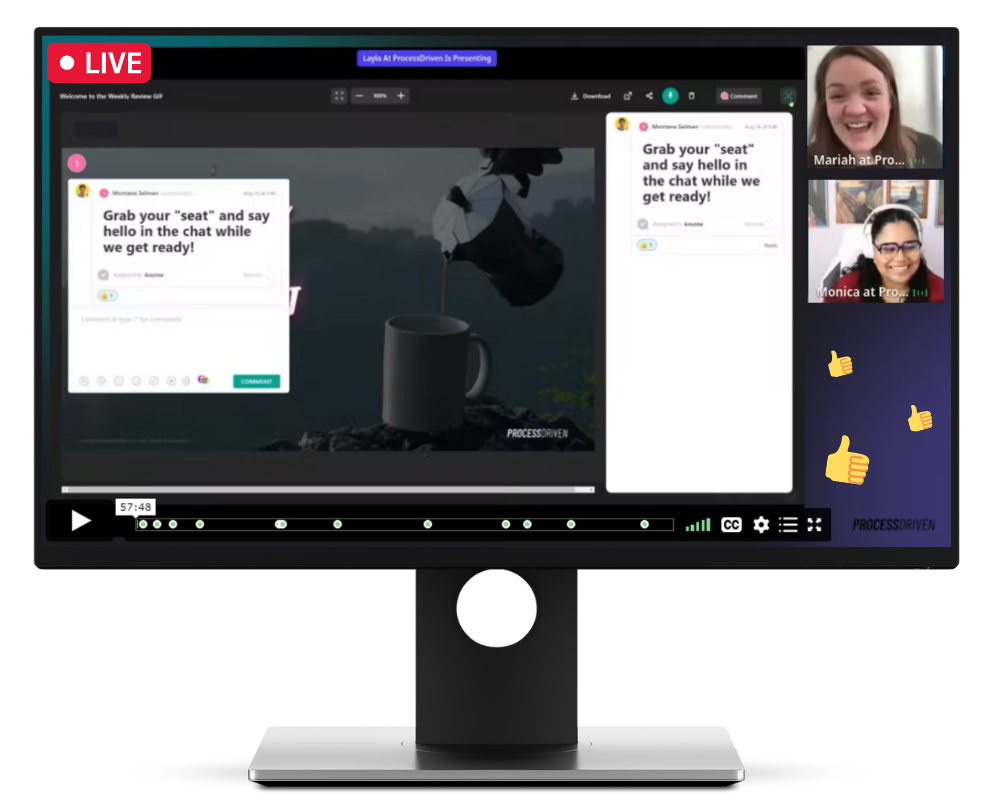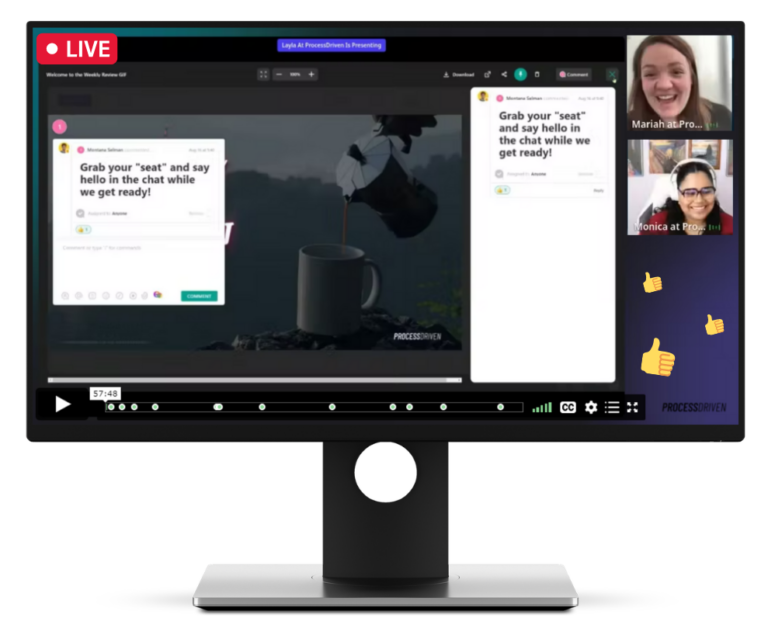 TIME-SAVING TEMPLATES & DECISION TREES
KNOCK HOURS OFF YOUR LEARNING CURVE IN SMARTSUITE WITH PROVEN RESOURCES
In addition to (3) SmartSuite Templates, you'll unlock (3) Decision Trees that break down the logic behind setting up your SmartSuite account. Find the answers to questions such as, "Should this project be an App or a Record in SmartSuite?" without falling down a YouTube rabbit hole!
Current resources include: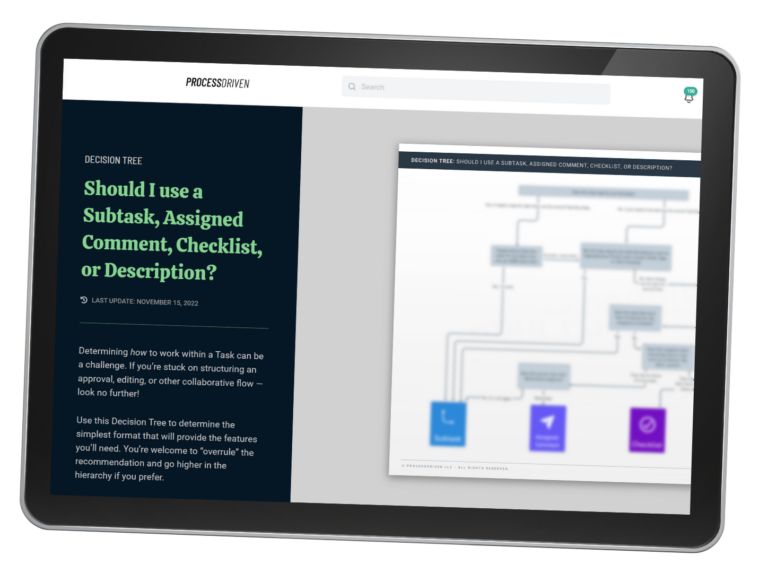 SAVE HOURS GOOGLING; ASK AN EXPERT!
STUDENTS UNLOCK EXPERT SMARTSUITE SUPPORT AT THEIR FINGERTIPS
Prefer to learn by asking questions? We get it! That's why we include threads (staffed by the SmartSuite experts at ProcessDriven) on every learning lesson.
If you have a burning SmartSuite question, need clarification on a topic, or just want to dive deeper, we're here for you!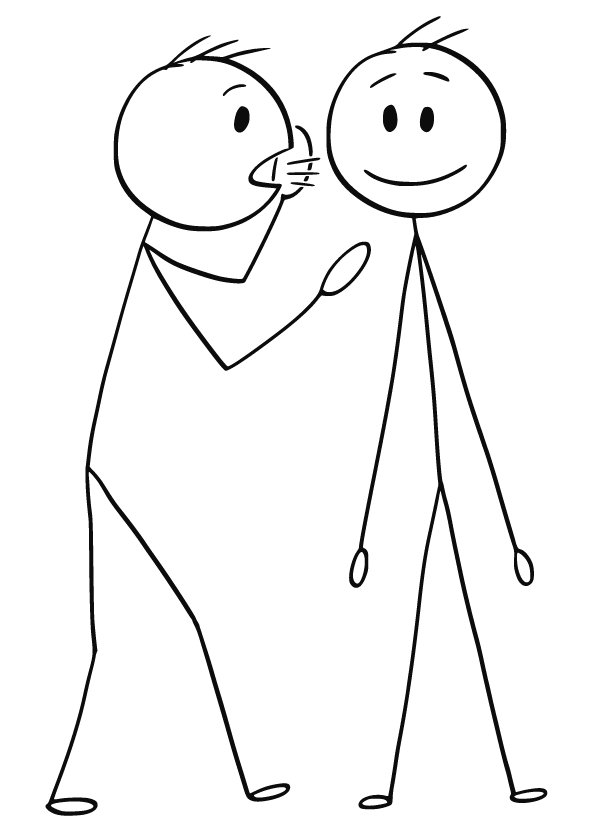 EQUIP YOUR ENTIRE TEAM WITH SKILLS, BEST PRACTICES, AND KNOWLEDGE TO
Get your entire team SmartSuite-ing effectively!
How to SmartSuite provides basic training appropriate for everyone from the casual Guest User to the aspiring Admin. We encourage enrolling all team members to instill shared SmartSuite conventions that will prevent collaboration-killing bad habits that, based on our experience, are painfully common. How to SmartSuite is perfect for…
meet your instructor, layla
CEO & PROCESS CONSULTANT AT PROCESSDRIVEN
As a Process & Technology Consultant, I've spent years working with small teams on work management implementations. After guiding teams through 1,000+ software rollouts, I've learned two powerful lessons:
Every user — not just Admins — needs to understand their work management software's basic features fully and completely in order to have a successful long-term adoption. (That's why done-for-you setups will often fail — no one can learn for your team.)

There's no replacement for having a human anticipate your questions and help you find your way when you get stuck.
I originally created our first mini course back in 2020 as a series of simple video guides to teach my clients' team members how to thrive inside of their work management software. Multiple years and hundreds of iterations later, that original course + support program has guided 1,700+ students to confidence!
We've now adapted our action-oriented "how to" framework for SmartSuite users!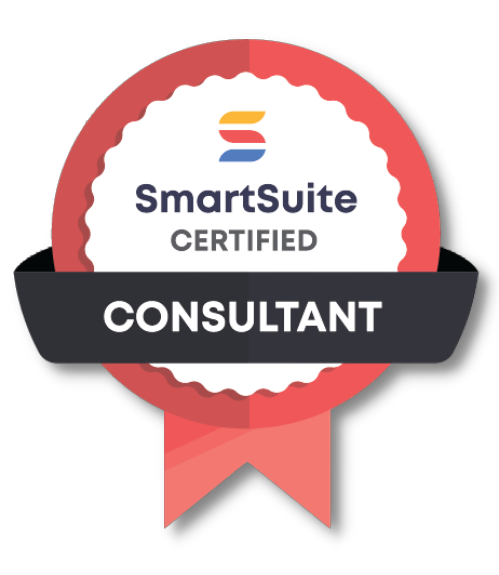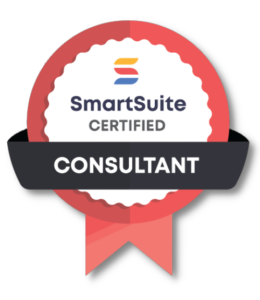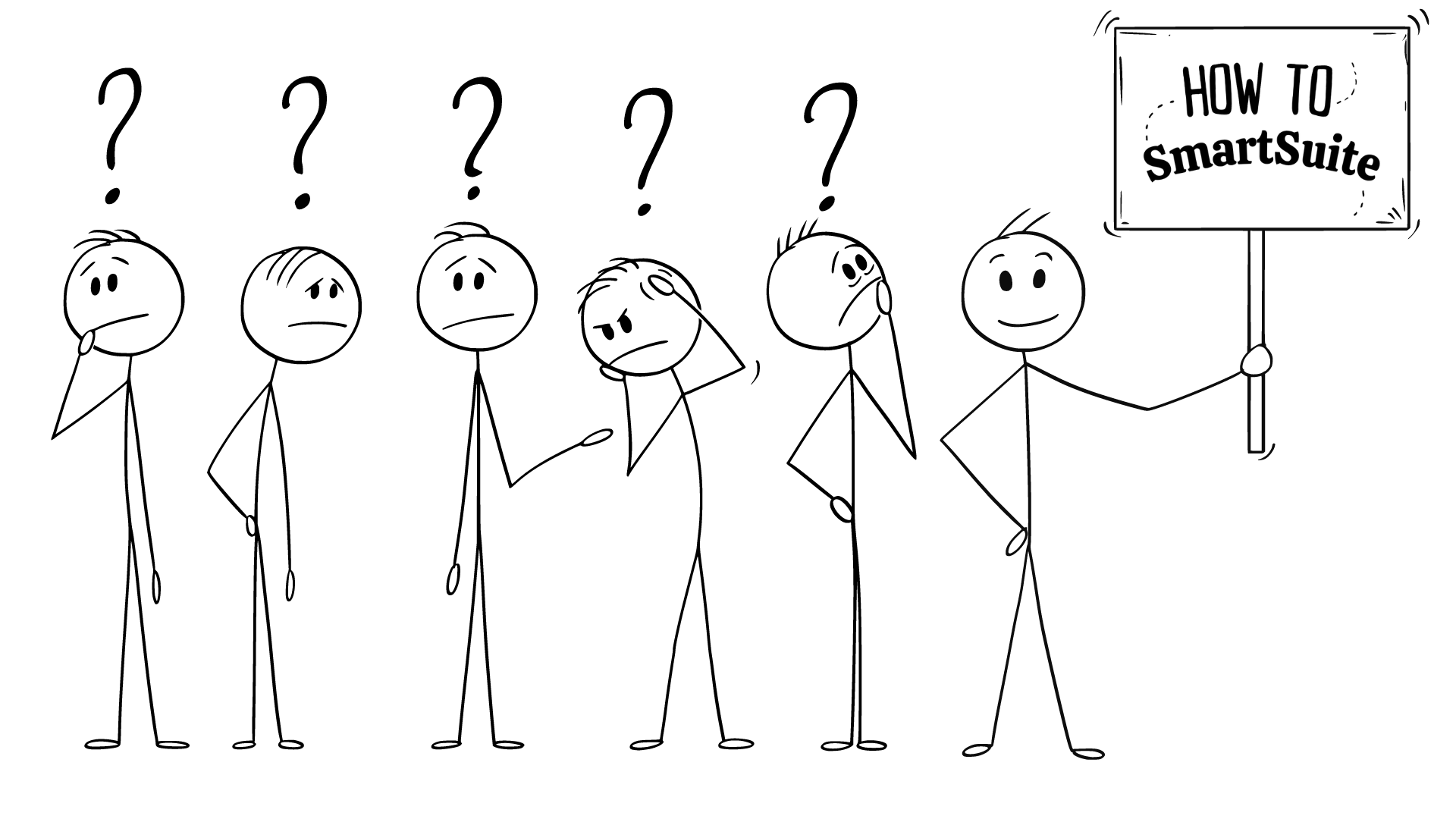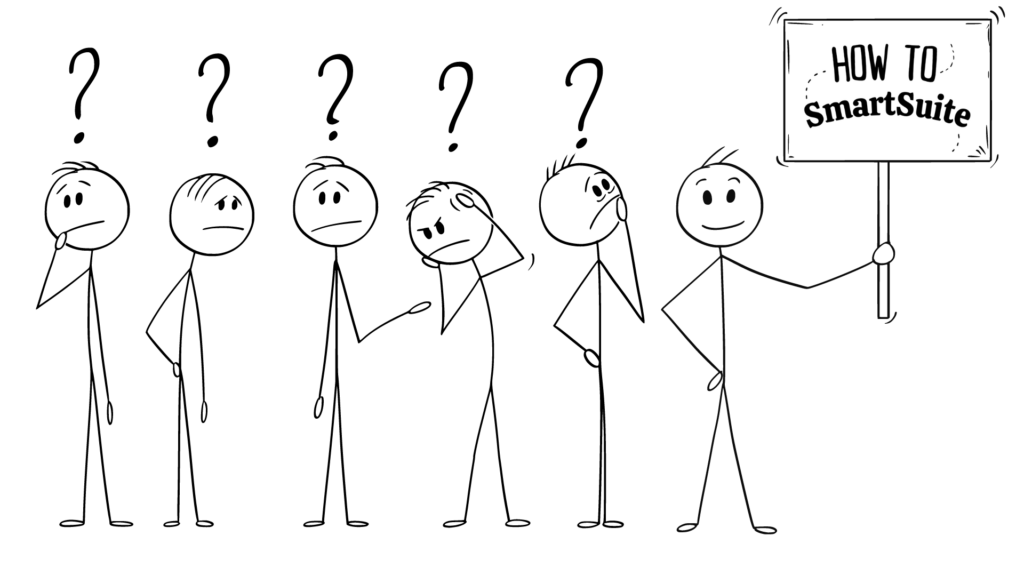 Wish you could feel a bit smarter in SMARTSUITE?
MASTER SMARTSUITE CORE FEATURES & BEST PRACTICES TODAY!
Unlock How to SmartSuite and access the training, support, and resources you need to learn the SmartSuite essential features you really need.
Frequently Asked Questions